Coinbase, the leading U.S. cryptocurrency exchange ecosystem, has revealed that it is in the process of exploring a new series of assets ready for listing. It is their second announcement of this type this summer. Why is this important?
DeFi welcome on Coinbase
The Coinbase team has indicated the names of 19 new assets that are currently undergoing exploration to be listed on the exchange. It is stressed that all assets subject to listing should strictly follow the requirements of U.S. legislation and the platform frameworks for cryptocurrencies available.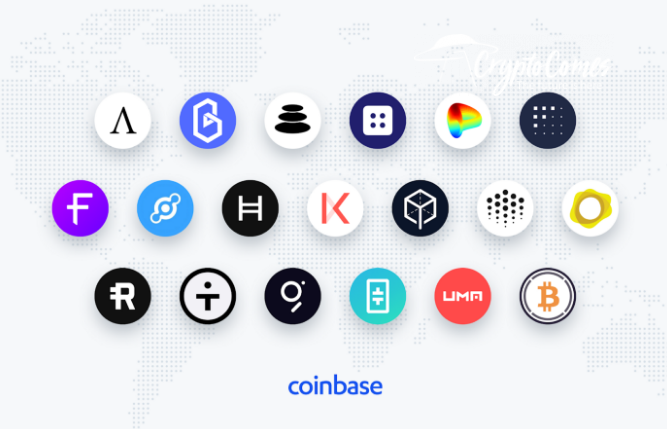 Image by Coinbase
Now every asset is investigated in accordance with Coinbase's Digital Asset Framework. The platform's experts research a number of factors, including security, compliance and
the project's alignment with our mission of creating an open financial system for the world.
As usual, some of the tokens explored are not even released in the mainnet, while the others are very popular among traders. The following were picked for analysis: Ampleforth, Band Protocol, Balancer, Blockstack, Curve, Fetch.ai, Flexacoin, Helium, Hedera Hashgraph, Kava, Melon, Ocean Protocol, Paxos Gold, Reserve Rights, tBTC, The Graph, THETA, UMA and WBTC.
It is obvious that Coinbase is focused on attracting DeFi assets traders. That said, the presence of Ampleforth (AMPL), the most controversial token of that segment, and Balancer (BAL)—one of the top gainers of the recent DeFi craze—is not surprising.
Casino-like approach?
Besides DeFi, the list includes high-tech altcoins Hedera Hashgraph (HBAR) and Ocean Protocol (OCN), tokenized Bitcoin-pegged assets WBTC and tBTC and even stablecoin Paxos Gold (PAXG)—physically backed by gold bars. The latter asset may be in high demand very soon due to a significant increase in the XAU futures price on news of the record U.S. GDP drop.
It should be noted that some prominent speakers in the crypto space slam the idea of periodic Coinbase listings of early-stage assets. For instance, Bitcoin (BTC) maximalist and Russia Today host Max Keiser compared this manner of listing to casino gambling.
He insists that these assets exist only because they are listed by Coinbase, not because they have intrinsic value. That said, the seasoned investor and hedge fund manager claimed Coinbase should be regulated like a casino.