According to Mr. Armstrong, the biased article about the alleged internal conflicts at Coinbase will be released by The New York Times this Sunday. It is said to provide false coverage of a diversity of issues in the leading U.S. crypto trading ecosystem.
Disgruntled ex-employees have something to say
Armstrong highlighted that, typically his company does not address negative media publications. However, this one may be special due to its possible perception by the "friends, family and professional contacts" of the Coinbase staff.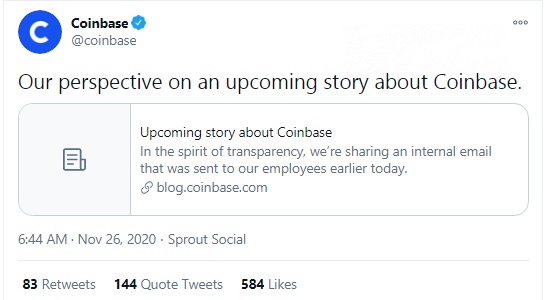 Image via Twitter
This text, which will appear on NYT's pages on Sunday, Nov. 29 (and even earlier on its website), allegedly accuses Coinbase's top-tier management of mistreating Black employees. NYT author Nathaniel Popper reached four former officers of Coinbase who left the company before Q2, 2019.
Armstrong recalled that three former employees who likely shared their stories with NYT filled complaints about alleged discrimination. All complaints were thoroughly investigated by both third-party bodies and internal conflict teams, and no wrongdoing was confirmed.
However, the Coinbase CEO admitted that the article will most likely include leaked Slack dialogs, photos and internal documents. As a result, the whole text may be sensitive for Coinbase staff:
We know the story will recount episodes that will be difficult for employees to read. (...) No organization is ever as perfect as the media suggests in the most glowing article, or as bad as the media alleges in the most negative article.
Not everybody likes mission-focused companies
Armstrong reiterates that his company is highly commited to the values of belonging, inclusion and diversity. He encourages his employees to report all sorts of misbehavior to internal conflict offices. Also, Coinbase hired an external consultant in August who is an expert in data science and diversity and inclusion.
The consultant researched historical material related to Coinbase's business processes and found no evidence of bias in hiring or operations.
As covered previously by CryptoComes, Brian Armstrong was criticized in September of this year for his blog post that stated there is no room at Coinbase for social activism.
Brad Garlinghouse of Ripple Inc. disagreed with this take and highlighted that high-tech companies have a social obligation in 2020.