During the latest episode of CNBC's 'Futures Now,' two prominent trading experts weighed in on today's volatility in the Bitcoin market. While holding different views on crypto, both of them agreed that BTC is currently attractive for buyers.
Did Bitcoin just find a new floor around $10,000? @SeemaCNBC, @JimIuorio, and @ScottNations debate the next level for digital gold $BTC pic.twitter.com/p5wkz151GK

— CNBC Futures Now (@CNBCFuturesNow) July 2, 2019
Supporting the hedge asset narrative
jim iuorio calls Bitcoin a "genuine dollar hedge safe haven asset" based on its six-month performance in 2019.
According to iuorio, $10,850 seems like a good spot to buy. As of now, he sets his target at $11,850.

Overall, iuorio is impressed with the way Bitcoin has been performing since the beginning of June — it started to move higher while the US Dollar is going lower.

The same was true for the Chinese Yuan when its trade war-fueled drop was inversely correlated to Bitcoin.
A major 'buy' opportunity
Meanwhile, his colleague Scott Nations made it clear one more time that he's not a fan of Bitcoin.
"I think there is a fight going on between two camps who are trying to put on positions, and I think right now the buyers have the advantage. This is the only time I would consider buying Bitcoin, and I wouldn't do it."
At the time of writing this article, Bitcoin is trading at $10,686.74 with a four percent increase over the last 24 hours.
The top cryptocurrency recently experienced a pullback with its price plunging below the psychologically important $10,000 mark, but the bears failed to gain an upper hand due to high buy pressure.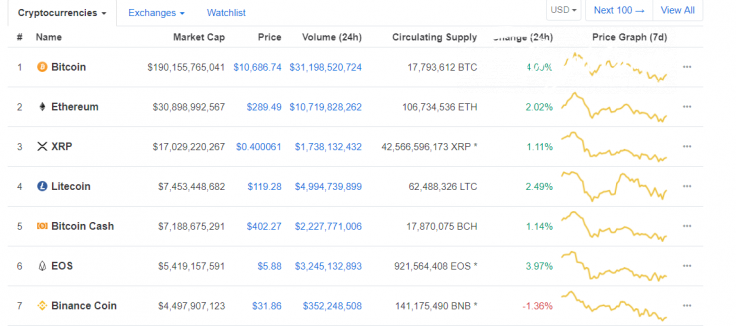 Bitcoin becomes the best-performing currency after a continuous bloodbath, image by CoinMarketCap
Despite the bullish outlook, iuorio does warn cryptocurrency traders about the potential risks that are associated with Bitcoin.
"This is the market that moves $3,000 in two minutes the day. If you going into it, be prepared, have stops, know what your risk tolerance is.