Recent difficulties in the work of China's centralized exchanges, including issues with withdrawing crypto assets, have driven Chinese traders and investors to initiate a "coin withdrawal campaign."
This was shared on Twitter by renowned Chinese journalist Colin Wu, who covers exclusive events and news from the crypto sphere.
A campaign to get all crypto off centralized exchanges
Colin Wu who, according to his Twitter bio, provides exclusive news about mining, regulation, exchanges and other aspects of the crypto sphere and even received the China News Award, has tweeted that traders and investors in China have started a campaign to withdraw their USDT (a very popular stablecoin in China) and other crypto from crypto exchanges—specifically centralized ones.
This withdrawal began on Sept. 6, after users began to experience issues en masse when attempting to withdraw their crypto from trading platforms and seeing shutdowns.
The Chinese crypto community began to call on each other to leave local exchanges without crypto and delete their accounts.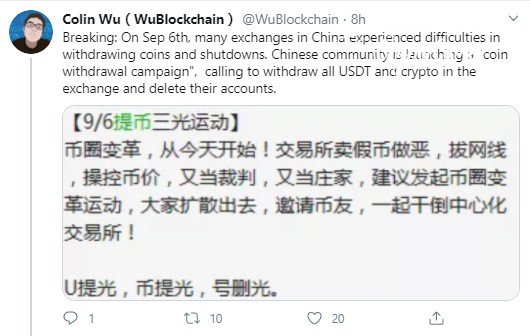 Image via Twitter
Users are grabbing ETH for yield farming
The journalist also wrote that, according to recent data, users on major crypto exchanges have been getting more Ethereum coins due to the recent exchange rate decline, and transferring ETH to dexes to participate in yield farming.
The data shows that due to the popularity of yield farming, especially the recent sharp drop in the price of ETH, many users buy bottoms on exchanges and then transfer to DEX for farming. The stock of ETH and other farm crypto on the exchange is falling frantically.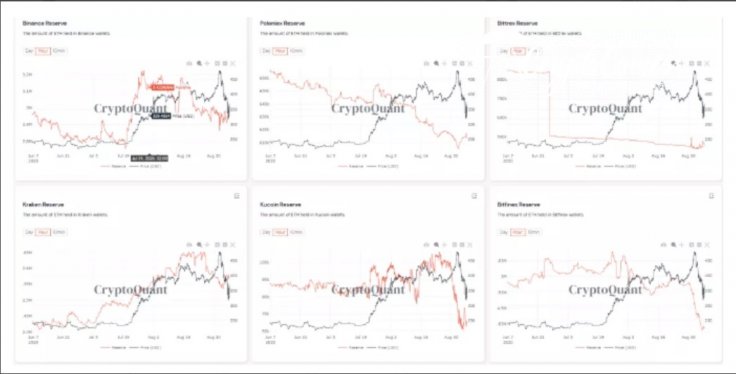 Image via Twitter
The latter has been growing in popularity and has become a hot trend recently with such tokens as Chainlink, Compound, YAM, SushiSwap, Yearn.Finance and others.
However, experts recently expressed that, due to exceptionally high Ethereum fees, the major gainers on DeFi and yield farming have been none other than Ethereum miners.