In a video published on his Twitter page, Cardano founder Charles Hoskinson responded to the CEO of ETC Labs. The latter earlier published a blog post saying that Hoskinson's suggestion about creating a treasury system goes against ETC's core values.
Debate? https://t.co/BxCBoxGRUW

— Charles Hoskinson (@IOHK_Charles) August 12, 2020
ETC Labs prefers to do without Hoskinson's advice
After Ethereum Classic suffered two consecutive 51 percent attacks and lost $5.6 mln in ETC after the second one, the founder of Ethereum and Cardano, Charles Hoskinson, made an offer to the ETC community. He offered to help avoid these attacks in the future and assist the ETC network in unleashing its full potential.
He suggested that Ethereum Classic set up a treasury system for its core developers, which means that miners would have to give up part of the ETC they earn (up to 20 percent, according to ETC Labs CEO) so that ETC core devs have enough funding from an independent source.
Where there is funding, there is new development and innovation; this was the thrust of Hoskinson's message.
The discussion between Hoskinson and the ETC community was planned for Thursday. However, on Aug. 12, ETC Labs CEO Terry Culver published a post on Medium in which he thanked Charles for offering help and rejected the very idea of forcing miners to part with 20 percent of their minted ETC.
As per Culver, this goes against the principal values of the ETC community and would likely make the network centralized if only several entities would receive the "crypto tax" from miners and impose their terms on the network.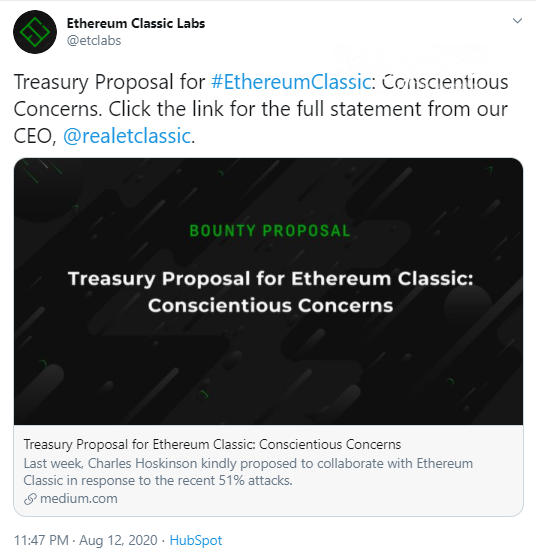 Image via Twitter
Once Ethereum 2.0 arrives, ETC may stand no chance against ETH, Hoskinson says
The Cardano founder stated that this blog post made him sad, since he believes ETC to be the original Ethereum and that it could become an outstanding platform.
He believes that ETC is desperate for innovation, funding and, most importantly, for a vision of what they intend to achieve.
Hoskinson said that he and his team read whitepapers on all new blockchain projects, from which he can see that a good deal of innovation is coming into the field.
He also pointed out that once Vitalik Buterin rolls out Ethereum 2.0 and proof of stake, the gap between the ETH and ETC ecosystems will become deeper and wider than it already is. This would be difficult for ETC to overcome.
The reason why he is so keen to help ETC, Hoskinson said, is because it was the first big project he helped to found and he is invested in its fate. Besides, he believes that, thanks to its high potential, Ethereum Classic could find its way to the top of the blockchain ecosystem.
His debate with the ETC community will still take place, he announced.