Blockchain entrepreneur Arthur Hayes has announced a massive addition to the futures trading suite of his BitMEX crypto derivatives exchange. Some major troublemakers of 2020 are listed on BitMEX.
Chainlink (LINK) and Tezos (XTZ) futures trading commenced
Mr. Hayes announced four new types of futures settled in U.S. Dollar Tether (USDT). He introduced Chainlink (LINK), EOS, Cardano (ADA) and Tezos (XTZ) as newcomers on his platform.
New shit to trade on @BitMEX, we got $LINK, $EOS, $ADA, and $XTZ futures against $USDT. Come get some!

— Arthur Hayes (@CryptoHayes) September 11, 2020
He invited his followers to enjoy trading new pairs. The launch of trading has resulted in a price spike for some new contracts. For instance, the contract of Chainlink (LINK) paired with USDT (LINKUSDTZ20) reached the unbelievable level of $16.80. To compare, the spot price of Chainlink (LINK) on major trading platforms sits at $12.32.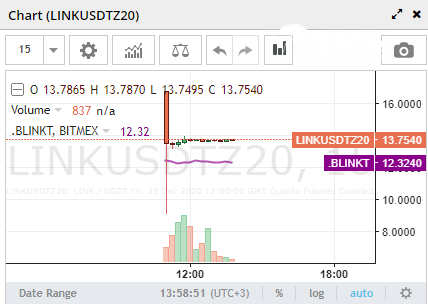 Image by BitMEX
At press time, the Chainlink (LINK) contract is still changing hands at a 11.7% premium to its spot price. For familiar assets, like Bitcoin (BTC) and Ethereum (ETH), this indicator is below 0.1%.
Tezos (XTZ) is trading with USDT (XTZUSDTZ20) at $2.73, or up 9.6% compared to its spot price.
Altcoin derivatives trading is gaining steam
During the past few weeks, numerous exchanges have added derivatives trading on altcoins or trading with leverage. For instance, Bitfinex has added Polkadot New (DOT) and Chainlink (LINK) to its margin trading suite with 3.3x maximum leverage.
Traders highly value futures positions on high-liquidity altcoins. As covered by CryptoComes previously, Chainlink (LINK), OMG Network (OMG) and Polkadot New (DOT) tokens reached a combined trading volume of $1 bln on Binance Futures a few days after launch.
Image by Skew
New altcoin-based trading features may hep BitMEX to reestablish itself as a leader of cryptocurrencies derivatives trading. According to Skew analytical instruments, despite long-term supremacy in the past, it is now out of the Top 3 on several indicators.