Trader and analyst Teddy Cleps noticed a significant interest in newly listed contracts on the crypto derivatives platform Binance Futures. Three of the contracts showcased almost a ten-digit total trading volume in 24 hours.
LINK, OMG, DOT Trending on Binance Futures
In a recent tweet, Mr. Cleps announced that three perpetual USDT-margined contracts on the Binance Futures platform are ready to break above $1,000,000,000 in a 24-hour total trading volume. The audience is interested in Chainlink (LINK), OMG Network (OMG), and Polkadot New (DOT) contracts.
Based on the 24h volume, the trending coins today on Binance Futures are:

- $LINK ( 500 million )
- $OMG ( 278 million )
- $DOT ( 163 million )

Are you wearing your scalping shoes? pic.twitter.com/8AsdTQMnol

— Teddy (@TeddyCleps) August 23, 2020
The LINKUSDT contract witnessed $550M in a 24-hour trading volume, while OMGUSDT exceeded $278M. The DOTUSDT contract surpassed $163M in trading volume even though Binance Futures only added it four days ago.
Launched in September 2019, Binance Futures is now ranked third on the cryptocurrencies derivatives exchange in terms of trading volume. According to CryptoCompare data, it is surpassed by Huobi and OKEx. However, in July 2020, it was the leader in terms of growth with a 19.2% in monthly upsurge.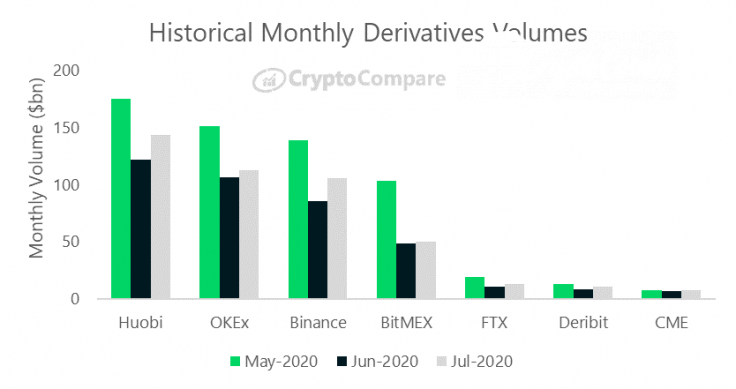 Image by BitMEX Research
Not Only Price Pumps Boost the Interest of Traders
All three coins that are trending on Binance Futures are in the spotlight since last week. Chainlink (LINK) witnessed two waves of whale-driven sell-offs, losing 25% from its all-time high (ATH) and left American Internet celebrity Dave Portnoy disappointed from the entire crypto segment.
However, LINK was listed on Bitfinex platform. Paolo Ardoino, CTO of Bitfinex, also claimed that the derivatives contracts on Chainlink (LINK) may be added to Bitfinex very soon.
The OMG Network (OMG) has finally released its integration with Bitfinex. Now, all Ether-based USDT are processed through Plasma side-chain infrastructure on this exchange. It allows for a significantly increase in terms of the speed of transactions.
Polkadot New (DOT) was also listed on Binance (BNB) this week, both in the spot and derivatives section. Binance also supported the 100:1 denomination of old version of Polkadot cross-chain infrastructure token. The announcement of this feature resulted in an immediate 'listing pump'.