Over the weekend, Cardano's founder, Charles Hoskinson, revealed to the community the exact time of the long-anticipated Shelley hard fork and shared his vision of how the Cardano blockchain will transform the crypto space by August 2021.
Shelley hard fork launch exact time and date
Over the weekend, Charles Hoskinson announced the countdown leading up to the release of the long-awaited Shelley upgrade which, as he promised, would transform Cardano into the best blockchain in the crypto space.
In the video, he mentioned that they are now running last-minute checks and tests and that the last chance to back off will be at some point on Monday. However, in a tweet yesterday, Hoskinson released the exact time for Shelley's rollout: 21:44:51 UTC on July 29.
"Lots of unique use and utility on Cardano in 2021"
Charles Hoskinson also published a tweet about the bright future that, as he expects, awaits Cardano this time next year. Among the achievements of the network, he mentioned a large amount of native assets, new decentralized apps running on Cardano, as well as a lot of interesting projects developed on it and "lots of unique use and utility."
He mentioned that Cardano's community is definitely ready to foster innovation.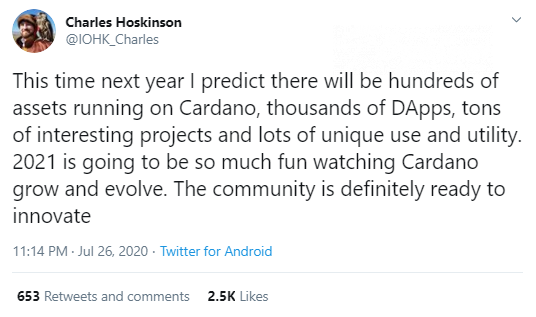 Image via Twitter