Input Output Hong Kong (IOHK), the research company behind Cardano, has announced the start of the Project Catalyst governance program via its official Twitter handle.

During its first explorative stage, called "Fund 1," a small group of volunteers will gather ideas about how to entice developers to build applications on top of the Cardano blockchain:
"The challenge set for this first Fund 1 phase is to gather ideas and proposals on how to encourage developers and entrepreneurs to build dApps and businesses on top of Cardano, within the next six months."
A self-sustainable blockchain
Project Catalyst, which is touted as "an exciting experiment in decentralized governance," is a treasury fund at the core of Voltaire, the last phase on Cardano's roadmap.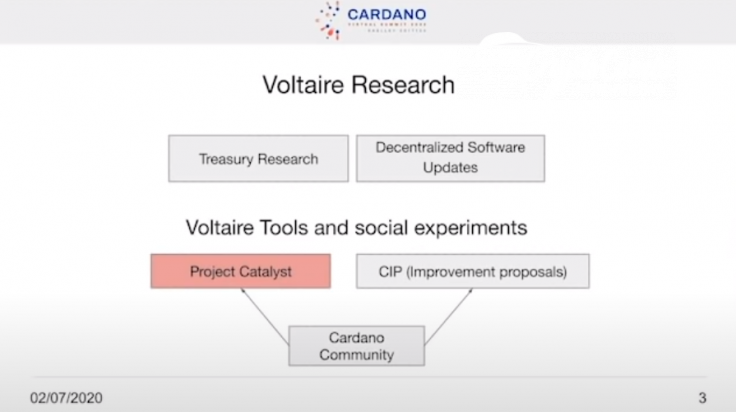 image by youtube.com
Its main aim is to give users the ability to make proposals that pertain to software updates, technical enhancements, and the project's finances and participate in the decision-making process.
By achieving this, Cardano would be able to turn into an all-inclusive self-sustainable blockchain.

With the implementation of the zero-knowledge protocol, IOHK will eliminate cases of corruption and extortions, thus democratizing the blockchain.
"IOHK is building a decentralized financial system that can address the world's needs. Voltaire is the first step in this direction. Using a collection of concepts, tools, and experiments, we are creating a fully decentralized ecosystem that will democratize our blockchain, and open it to the world."
The big question
According to IOHK product manager Dor Garbash, the treasury kicked off with an initial balance of $8 mln worth of ADA.

The obvious question would be whether or not Cardanians would be able to manage the funds in a "fair and impactful" way, but Garbash says that it cannot be answered just yet:
"The simple answer is: 'We don't know.' But what we do know is that is the way to find out."
Cardano members will be able to vote on all proposals submitted during the second round of Project Catalyst ("Fund 2").