Input Output Hong Kong, the software development studio behind the Cardano (ADA) blockchain, has shared plans to "adjust" ADA staking methodology. How would this affect validation and delegation mechanisms?
More pools, more decentralization for ADA
Starting from Dec. 6, processes on the Cardano (ADA) blockchain will be more decentralized with an increased k-parameter. The crucial decentralization metric will be raised from 150 to 500.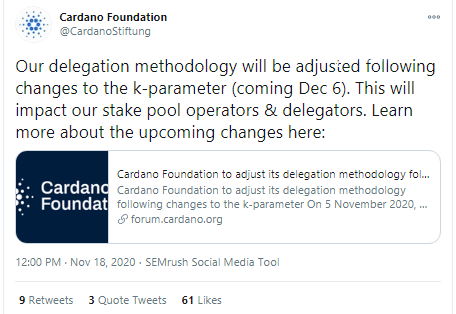 Image via Twitter
The upcoming update will affect both validators and delegators. Mostly, it will include the involvement of the increased number of validators. To onboard new validators seamlessly, a new staking methodology will be implemented by IOHK.
Previously, the re-delegation had been scheduled three weeks earlier, but then it was postponed for early December to ensure a higher level of readiness of the software.
K-parameter should be referred to as the level of rewards staking pools received for staking a given amount of ADA simultaneously. According to the product team, the k-parameter keeps the decentralization of Cardano (ADA) reasonable:
The k-parameter plays an important factor in keeping the Cardano blockchain adequately decentralized and encourages ada holders to delegate to a wider number of pools.
Cardano (ADA) welcomes motivated validators and delegators
From late July of this year, the Cardano (ADA) delegated proof of stake (DPoS) network has activated staking and delegation processes in its Shelley hardfork. The next era of Cardano's progress will include smart contracts onboarding.
As covered by CryptoComes, chief scientist at IOHK, Professor Aggelos Kiayias, has released a detailed guide on best practices for delegators and validators.
This document announced that stakers should not be seeking high returns in the short run, but instead should deeply analyze the staking pool before delegating their ADA to it.
In turn, staking pools should not offer too high rewards and prevent their pools from a concentration of power. These measures will protect Cardano's (ADA) integrity and decentralization.