Input Output Hong Kong, the development company behind Cardano (ADA) blockchain solutions, has announced a major update to its developer experience (DX). Programmers from both the Solidity and non-blockchain camps are welcome here.
Cardano (ADA) launches two devnets, KEVM and IELE
According to the latest tweet by the Input Output HK team, two development networks are ready to onboard engineers. The first one, KEVM, is dedicated to the deployment of "existing and future" Ethereum-based applications for the Cardano (ADA) blockchain.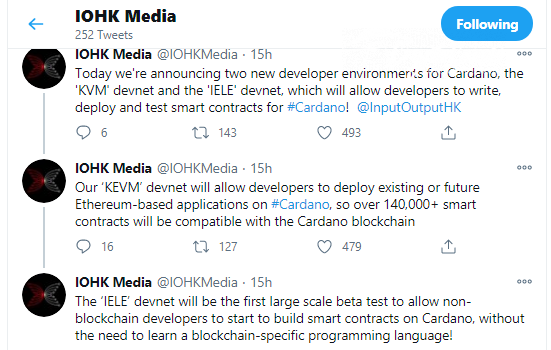 Image via Twitter
More than 140,000 multi-purpose EVM-powered smart contracts for different commercial use cases will be compatible with Cardano (ADA) blockchain. This release is very important for Cardano's (ADA) progress as a programmatic blockchain since more than half of all decentralized applications in existence are built on Ethereum.
According to leading data provider DappRadar, at press time, 2,101 out of 4,156 dApps chose this platform as a host for the operations.
The closest chaser, Tron (TRX), hosts 1,046 dApps, while Eos (EOS) public chain has 569 active dApps only. Thus, Cardano will have to compete with the Big Three, which accounts for almost 90 percent of the entire dApps market.
Non-blockchain devs can make their first steps in dApps with Cardano (ADA)
The second development network, IELE, should be considered a unique experiment for non-blockchain developers. It is the first-ever large-scale beta testing environment for mainstream programming languages.
Even engineers with no experience in blockchain-specific languages (like Solidity) can try to create and deploy smart contracts on Cardano (ADA) testnet.
Thus, the blockchain inches closer to the Goguen era associated with full decentralization and smart contracts for Cardano (ADA). Its present state, Shelley, upgraded Cardano's (ADA) performance with staking instruments.
As covered by CryptoComes previously, on Dec. 6, Cardano (ADA) updates its delegation policy to prevent the network from being whale dominated.
All stakers who use the large-scale pools (with over 64 million ADA locked for each) are asked to redelegate their holdings to smaller entities.