Input Output Hong Kong, a development studio tasked with Cardano (ADA) blockchain progress has shared its recommendations for ADA validators and large-scale holders. This warning is issued with regard to an upcoming adjustment of Cardano (ADA) validation mechanisms.
Don't put all your eggs in one basket
On Dec. 6, the crucial metric of Cardano (ADA) decentralization—the so-called "k-parameter" will be adjusted to ensure the progress of blockchain decentralization. This change will reconsider the landscape of staking pools allocation in order to avoid the domination of whales.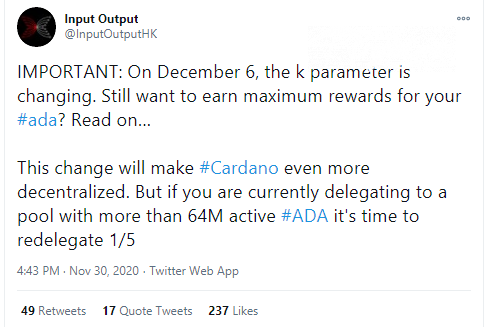 Image via Twitter
All delegators who lock their ADA holdings into the pools with over 64 million ADA tokens (almost $10 million worth) should redelegate them to continue enjoying high rewards.
Once the k-parameter is adjusted, these pools will fall into the category of "saturated," and delegating to them will not be as profitable as with smaller staking entities.
Thus, regardless of "by-default" APY conditions offered by large-scale pools, some delegators should consider migration of their ADA to early-stage or low-size pools. Redelegation is recommended for the clients of all pools with a saturation ratio of 30 percent or higher.
Last chance to change the pool
Saturation ratios of all legitimate ADA pools are displayed in Daedalus wallet. Input Output HK invites all delegators to check these parameters right now and take action.
To keep staking profitable, the redelegation should be finished today, Dec. 1, by 9:44:51 p.m. UTC. This requirement is based on the in-network schedule of Cardano's epochs and periods.
Right now many early-stage and low-tier pools are offering their services behind this announcement of Input Output HK on Twitter. Cardano (ADA) maintainers highlight that the long-term health of the network should be the first priority of all Cardanians:
In short – take the long term view, reward real ecosystem value and don't just chase the lowest fees.
As covered by CryptoComes previously, staking was introduced in Cardano (ADA) by Shelley hardfork in July 2020. System decentralization is increased epoch by epoch with the transfer of governance to third-party staking pools.