U.K.-based cryptocurrency trading firm GPay Ltd has been wound up by the High Court 'in public interest,' according to a recent press release by the Insolvency Service.

Based on the results of the agency's investigation, GPay Ltd (formerly known as 'CryptoPoint') relied on fake celebrity endorsements for promoting its platform to both British and international customers.

£1.5 mln worth of stolen funds
Similarly to a bevy of other crypto frauds, GPay Ltd would publish advertisements on social media to create an illusion that it is supported by TV personalities and investment advisors.
Money Saving Expert's Martin Lewis, who sued Facebook over failing to delete bogus ads that exploited his name, commented 'good riddance' on the wounding-up news.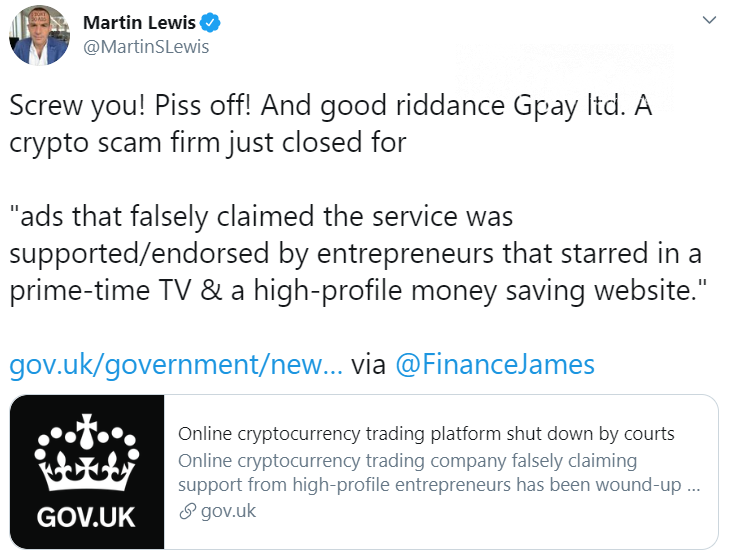 image by @MartinSLewis
Back in May 2018, the FCA issued a warning that GPay Ltd was acting without its authorization.

Nevertheless, the press release says that Pay Ltd has managed to collect £1.5 mln from its clients and refused to let them withdraw their funds.
'If clients attempted to remove funds from their trading accounts, they were advised that no withdrawals could be made until they submitted copies of their photo ID, a utility bill and debit or credit card.'
A cautionary tale
GPay Ltd didn't attempt to stop a winding-up order from being issued by the courts to prevent its liquidation.

It turned out that it didn't even have a 'legitimate presence' at its registered office address.

David Hill, chief investigator for the Insolvency Service, said that the agency's 'welcomed' the court's decision while urging online traders to be more cautious about what services they use.
'This scam should also serve as a warning to anyone who conducts trading online that they should carry-out appropriate checks before they invest any money that the company is registered and regulated by the appropriate authorities.'