Block.one, a development studio behind the EOS.IO open-source software, has shared an update on its first community voting within the new procedure. Its mechanism is evaluated by 39 top-notch experts from the EOS community.
Resource Model Proposal stress-tested by the community
In its recent tweet, Block.one mentioned that 39 organizations took part in the evaluation of the New Resource Model proposal. The participants studied the economics, technology and operations within new model.
1/ For the new #EOS Resource Model proposal, we put out a call to BP candidates to evaluate the code, the model, and more. 39 technically talented organizations responded. Today we'll be recognizing them for their contributions and leadership within this testing program.
Block.one has highly praised the efforts of community experts. The EOS.IO protocol authors will 'recognize' them for the contributions and leadership.
Starting from today, Nov.30, Block.one will begin voting from both of their accounts (sub1.b1 and sub2.b1) on a rotational basis for the candidates. The updated voting criteria ('Voting Philosophy') include the requirements for the node software used by block producers.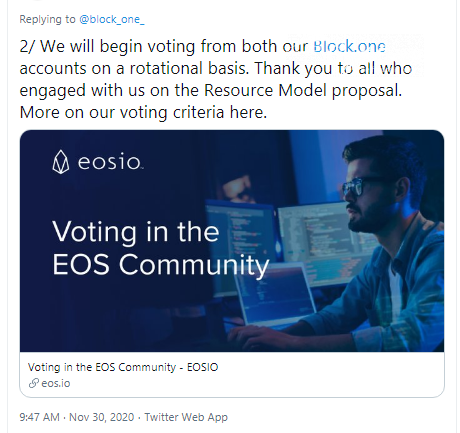 Image via Twitter
To be included into voting, a block producer should disclose the location of his/her nodes, run API or a peer-to-peer node that can be quieried publicly and install EOSIO 2.0 or a later version. Also, he/she should have their GitHub username disclosed in a JSON file.
New Model will boost performance and decentralization
Celebrating the latest milestone, Block.one CEO Brendan Blumer applauded the community commitment to the progress of EOS:
Collaborating with stakeholders to hone and grow #EOS has been powerful and fruitful. Thank you to everyone that is engaged with us, and all those that are working hard towards constructive advancement!
The EOS New Resource Model was proposed in December, 2019 as a response to the dramatic RAM collapse that clogged the EOS public chain in Nov., 2019. It re-considers the usage of computational capacity on a more decentralized and fair basis.
On Sep.3, 2020, Block.one initiated the community testing of the new model. To incentivize its participants, a competitive bounty with individual prizes of up to $20,000 for reporting any major bugs was announced.
As covered by Cryptocomes recently, Block.one introduced its own 'Blockchain-as-a-Service' platform for corporate needs.