Block.one, a development firm behind EOS.IO open-source software, reports its progress in business-oriented solutions. Here's how its "Blockchain-as-a-Service" tools can boost the operations of modern corporations.
Next-gen solutions for large-scale enterprises
Block.one has shared its BaaS platform basic specifications. In a nutshell, every corporate customer can utilize computational power and blockchain infrastructure together with Block.one specialists expertise and support.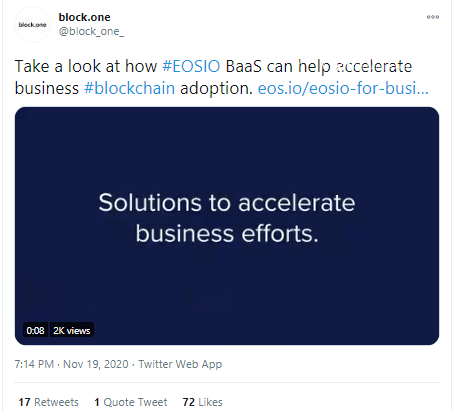 Image via Twitter
According to the webpage of the product, moving blockchain operations to EOS.IO software will significantly reduce operational costs and the complexity of interactions between the data structures. This, in turn, may enhance productivity and cause every enterprise to reconsider its approach to blockchain adoption.
New BaaS by Block.one allows entrepreneurs to move the entire back-end of their operations to outsource segments of recognized blockchain developers.
Additionally, Block.one promotes its BaaS as the only product with dedicated in-house hosting infrastructure:
EOSIO is the only blockchain network protocol to offer an in-house managed hosting solution.
One-stop platform for any kind of business
Collaborating with Block.one includes flexible monitoring tools that are available 24/7. Also, the whole cycle of operations is executed through dedicated private nodes fully managed by Block.one experts.
At the moment, Block.one's BaaS offers Base, Standard and Premium tariffs with 1, 5 and 7 nodes available, respectively. Up to 2,500 GB are offered for data storage and monthly data transfer.
All B2B customers receive "early bird" access to the EOS.IO product roadmap. Top-notch plans also include advisory assistance and 24/7/365 support through many online channels.
Consulting, training and certification services by Block.one are also available for corporate-scale clients. The whole range of services can be customized to meet the needs of given customers within the EOS-based BeSpoke platform.