A recent Twitter post by Bitfinex says that it has listed Compound (COMP). Deposits are already open and withdrawal and trading are to start in two days.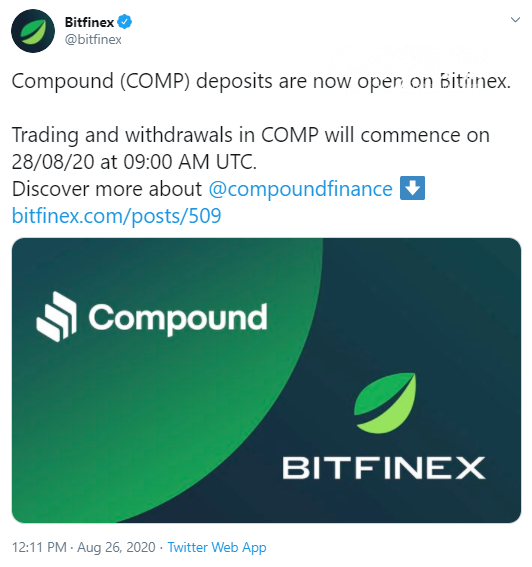 Image via Twitter
Bitfinex lists COMP directly against USD
On its Twitter page, Bitfinex announced the listing of DeFi token COMP and the upcoming start of trading. The coin will be paired against USD and USDT.
Listing against USD will give more users a chance to enter this token easily without having to acquire BTC or other popular crypto coins first.
Trading and withdrawals are to begin on Aug. 28 at 9 a.m. UTC.
A week ago, Bitfinex listed another token belonging to a popular DeFi platform: Chainlink's LINK. That occurred when the massive LINK rally turned into a massive correction as the coin dropped from the $19 area and is now still trading at around $14 per coin.
Numerous skeptics in the community believe Chainlink to be a bubble that has now burst.
Yield farming with COMP
Compound is a DeFi platform that allows retail users to lend their coins to each other. For this purpose, ETH or ERC20 tokens, like USDC and others like it, are used as collateral and locked in exchange for the platform's governance tokens.
After placing ERC20-based coins, users receive cTokens (COMP) and, later, they can exchange their cTokens back into original assets while earning interest.
Getting $25 mln from Andreesen Horowitz
In Nov. of last year, Compound managed to attract $25 mln in an A Funding Round from major venture investment company Andreesen Horowitz.
In addition, Compound received 1 mln USDC from the fund of Coinbase.