Bitcoin has just had a very rough day, tumbling by more than 10 percent over the last 24 hours. Yet another downturn comes on the heels of the long-awaited trade agreement between the US and China that is yet to be disclosed by the White House.
Bitcoin remains in the red
Despite all the correction talks, Bitcoin continues its steep decline, and it seems like the number one coin by market capitalization is now positioned to plunge below the psychologically important $10,000 mark.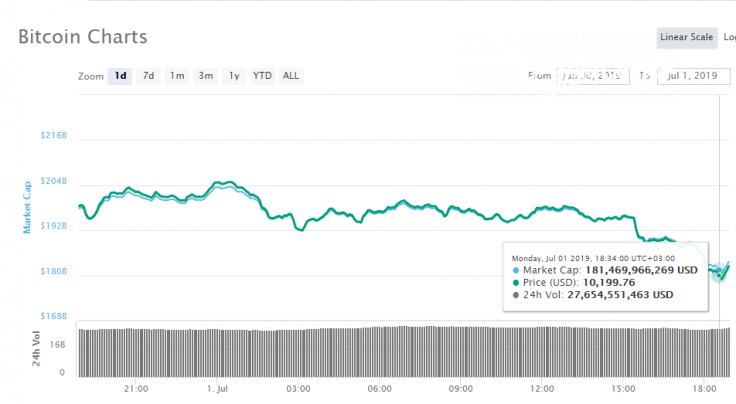 The Bitcoin price reaches an intraday low of $10,119, image by CoinMarketCap
There are multiple theories about why Bitcoin suddenly stumbled after wrapping up its best second quarter in history.
Multiple experts seem to agree that the trade war tensions between the US and China helped push the BTC price to new highs, which why a trade war truce between the two economic superpowers delivered yet another blow to the crypto king.
Gold takes a hammering
After touching its six-year high on June 25, the price of gold also stumbled after a ceasefire was announced. Bitcoin and gold often end up in the same boat since both of them are perceived as hedge assets.
The stock market shines
Meanwhile, the stock market, which got exactly what it wanted from the G20 Osaka summit, is on a tear with the S&P 500 reaching its new intraday high of 2,976. The same is true for the Dow — 26,869.97.