Large-scale Bitcoin (BTC) mining units are on the verge of a dramatic shortage as a sell-side crisis raged on the ASIC chips market. Entrepreneur Samson Mow shares alarming news from China.
"It's getting crazy again"
Mr. Mow, chief strategy officer at leading Bitcoin (BTC) development studio Blockstream, has reported the supply crisis on the market of chips for application-specific integrated circuits (ASICs), the core elements of Bitcoin (BTC) mining rigs.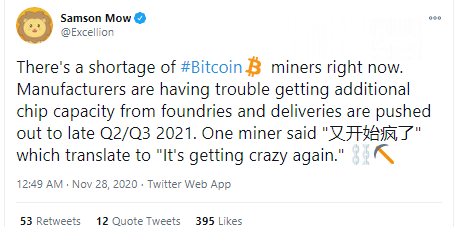 Image via Twitter
Additional chip shipments are massively delayed until late Q2/Q3, 2021. This, in turn, will lead to delays in miners' deliveries.
Meanwhile, Mow admitted that, in the short-term perspective, this situation will not impact the Bitcoin (BTC) hashrate seriously. Most likely, it will continue its upsurge as pre-ordered miners are shipped in time.
Mow included a description of the ongoing crisis attributed to one Chinese participant in the Bitcoin (BTC) mining segment:
It is getting crazy again.
Bitcoin (BTC) hashrate demonstrates ballistic growth in 2020
In turbulent 2020, the Bitcoin (BTC) hashrate added more than 30 percent, witnessing sustainable growth. At press time, it sits at 134 EHashes per second while, in January of this year, it barely surpassed 100 EH/s.

Image by BitInfoCharts
The information about delays in Bitcoin (BTC) equipment shipping is a powerful disturbing factor for the entire market. In July of this year, CryptoComes reported that Bitmain massively canceled and postponed orders due to internal conflicts between founders.
In addition, interest in Bitcoin (BTC) mining rigs by large-scale entities may act as another supply crisis catalyst. For instance, this October, U.S.-listed Marathon Patent Group (NASDAQ: MARA) bought 10,000 flagship Antminer S19 Pro miners.