"Bitcoin on Ethereum" refers to a class of ERC-20 tokens issued on the Ethereum (ETH) blockchain. Each of them costs one Bitcoin (BTC). Recent announcements by major Ethereum (ETH) contributors indicated the expanding popularity of this solution.
100 percent in 23 days
In a recent tweet, Justin Drake, top-tier Ethereum (ETH) developer and ETH2 researcher at the Ethereum Foundation (EF), announced that "Bitcoin on Ethereum" solutions reached another milestone in their progress. It took three weeks and two days only to make this advance:
0.4% of all BTC now on Ethereum.

2x growth (37,000 BTC to 74,000 BTC) in 23 days, again. https://t.co/aJckaVuqok

— Justin Ðrake (@drakefjustin) September 8, 2020
Since mid-August, the net number of Bitcoins (BTC) on Ethereum (ETH) surged 100 person from 37,000 Bitcoins (BTC) to 74,000 Bitcoins (BTC). Thus, Mr. Drake concluded, four out of every 1,000 Bitcoins (BTC) in the circulating supply have been released on the Ethereum (ETH) blockchain.
It is interesting that the previous doubling also took 23 days. On Aug. 16, Mr. Drake reported that 0.2 percent of all Bitcoins (BTC) are available on Ethereum.
Drake's conclusions regarding the growing popularity of "BTC on ETH" solutions are confirmed by independent analytical data for various protocols. For instance, leading DeFi explorer DeFi Pulse registered a meteoric run of total value locked in Wrapped Bitcoin (WBTC), one of the pioneering instruments in this segment.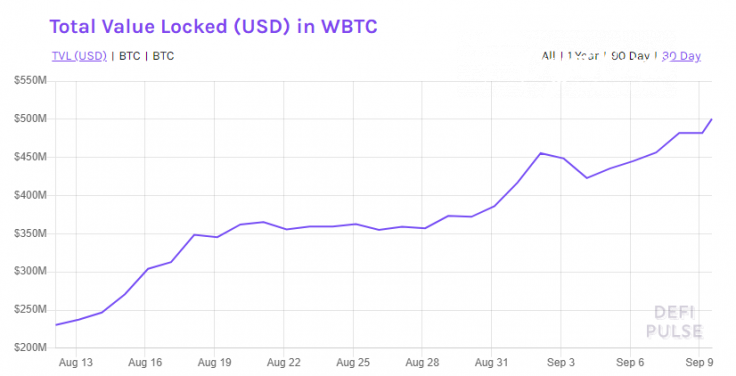 Image by DeFi Pulse
According to DeFi Pulse, the total value locked in WBTC gained 117 percent in one month. It now surpasses 0.5 bln in U.S. dollar equivalent.
Why are "Bitcoin on Ethereum" solutions so popular?
This type of protocol gained global popularity due to its allowing all Bitcoin (BTC) holders and traders to leverage the well-documented multi-purpose Ethereum (ETH) infrastructure. For instance, with WBTC and its competitors, you can trade Bitcoins (BTC) on Ether-based DEXs like UniswapV2.
The cryptocurrencies segment still lacks reliable and low-cost decentralized cross-chain bridges. As a result, "wrapping" Bitcoins (BTC) remains a good alternative that eliminates the need for additional Bitcoin/Ethereum swaps.
Howewer, this instrument also has its shortages derived from Ethereum (ETH) blockchain vulnerabilities, e.g., gas prices and network congestion.