Some Bitcoin (BTC) holders may be willing to fix profits in this stage of a developing FOMO run. Analysts of CryptoQuant, the innovative on-chain analytical team, witnessed record-breaking levels of Bitcoin (BTC) inflows to exchanges.
Bitcoin (BTC) whales deposited $300 mln during one block
Alvin Lee, cofounder of Aluna Social (ALN) decentralized copy-trading platform, has shared in his recent tweet some data from the CryptoQuant terminal. According to Mr. Lee's tweet, more that 22 Bitcoins (BTC) were moved to the exchange's wallets in the early morning hours of Nov. 4 (UTC).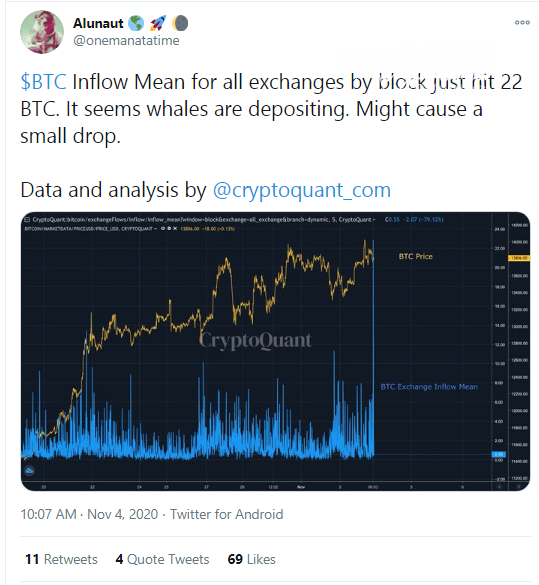 Image via Twitter
Typically, Bitcoin (BTC) exchange inflow mean per block does not exceed 10 BTC. All double-digit inflows coincided with sensitive price drops.
Lee guessed that the impressive inflow may indicate that it is being driven by whales. As a result, the selling pressure on the flagship cryptocurrency has spiked.
However, Ki Young Ju, the founder of CryptoQuant, has admitted that this pressure has already been reflected in a 2.5 percent drop to the $13,500 support level.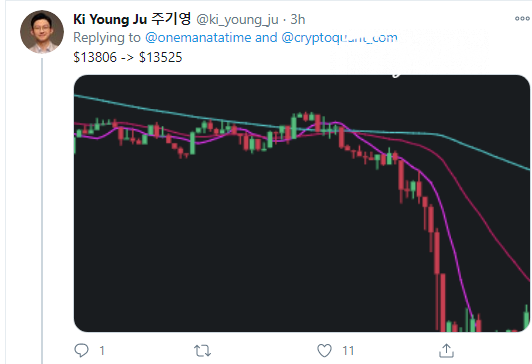 Image via Twitter
Are Bitcoiners getting their first profits?
These 22 Bitcoins (BTC) do not look isolated in the short-term perspective. Additional statistics by CryptoQuant show that the seven-day moving average inflow across all exchanges entered the zone controlled by sellers.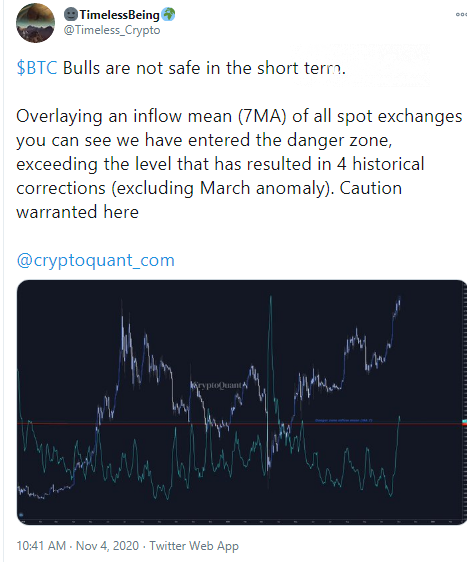 Image via Twitter
Historically, when this indicator spiked over 4 (excluding crypto's Black Thursday), it was followed by local sell-offs. Yesterday, it touched levels unseen since mid-May.
Another analytical firm, Glassnode, also indicated that some traders may be exchanging their profits—satisfied by current price levels.
According to Glassnode, long-term investors have not been so pessimistic about buying since the dramatic month of March 2020. Their "net holding" position entered sub-zero zones for the first time in eight months.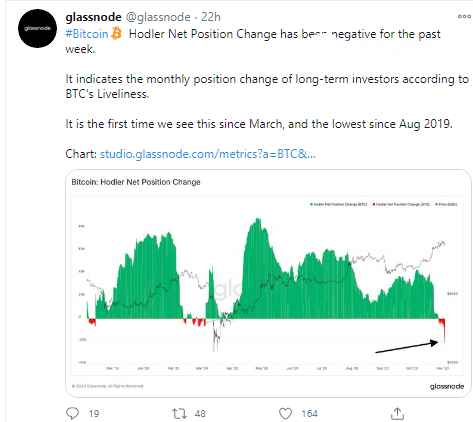 Image via Twitter
At press time, Bitcoin (BTC) is going through a correction of its second attempt to hold above $14,000. Now it is changing hands at $13,786 on major spot exchanges.