The world's largest crypto trading venue by volume has announced that it is going to allow its users to trade BNB options as of August 4, 2020, at 7 a.m. UTC.
Thus, Binance intends to give this coin more liquidity and provide its customers with extra ways to earn some more cash.
BNB options to launch on Binance
Options are asset derivatives (of cryptocurrencies in this particular case) that allow users to acquire or liquidate an asset that an option is based on at a pre-determined rate. Call options are used by bulls, and put options are the tool preferred by bears.
Adding BNB options will allow this asset to increase liquidity. Earlier this year, in May, trading giant Binance added options to XRP and ETH.
Options based on cryptocurrencies have become quite popular recently, as many traders are using this tool to make extra profit.
Thanks to the efforts of Binance, and its CEO in particular, Binance Coin has already become quite a popular crypto asset, used in many trading pairs and also adopted in numerous IEOs (initial exchange offerings) last year.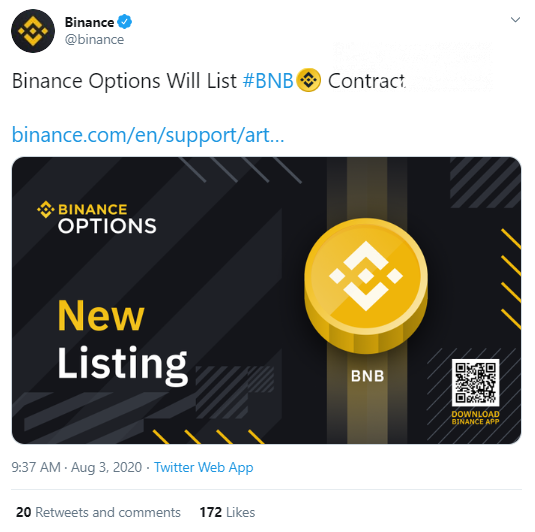 Image via Twitter
BNB is recovering after recent decline
BNB remains on the Top Ten list, and adding a BNB-option was a decision expected by the Binance community—this much is clear from the comment thread under the tweet.
However, some stated that options are a risky tool and that crypto volatility could play against traders.
The news of Binance adding BNB spots followed attempts by the tenth most popular coin, BNB, to recover after its decline on Sunday, when the asset fell from a $22.02 high to $20.28.
Since then, BNB has been trading in a range, and at press time it is sitting at $21.70. It remains in the tenth spot on CoinMarketCap.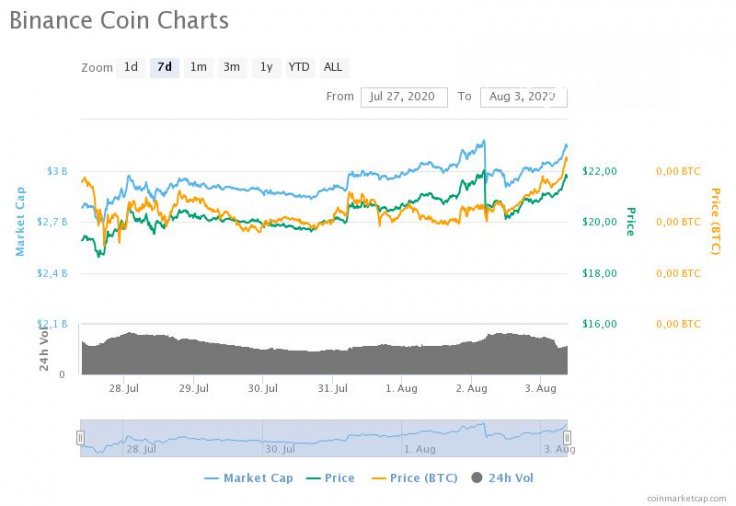 Image via Twitter