If the 844 percent rally in August were not enough for profit-hungry yearn.finance (YFI) traders, Binance Futures, the futures trading arm of the world's leading crypto exchange by reported trading volume, is going to add a tad more spice by allowing traders to bet on the token's move with up to 50x leverage.
A Tether-paired YFI/USDT perpetual contract was opened for trading at 7:00 UTC on Aug. 31.
Binance capitalizes on DeFi craze
Binance Futures users will now have an opportunity to go long or short on the YFI token based on their expectations as to whether it will appreciate or depreciate in the future.

It is possible to boost potential gains by 50 times if the market moves in the right direction, but high-leverage positions have a very high chance of being liquidated given the inherent volatility of cryptocurrencies (especially such wild DeFi beasts as YFI).
Futures contracts offered by Binance and rival unregulated exchanges, such as OKEx and BitMEX, can be traded in perpetuity, meaning that they do not have expiration dates.

Over the past few months, similar products have been introduced for Compound (COMP) and Aave (LEND).
As reported by CryptoComes, the exchange also launched the DeFi/USDT Composite Index that allows the 10 biggest DeFi protocols greater exposure.
A valueless token dwarfs Bitcoin's all-time high
On Aug. 30, YFI reached a new peak of $38,600 on the Binance exchange, which is almost two times more than Bitcoin's all time high of $20,000.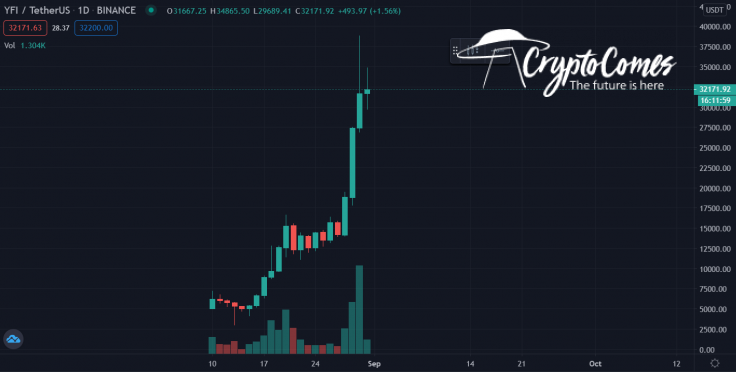 Image by tradingview.com
Ironically, yearn.finance co-founder Andre Cronje claimed that the token had "0 financial value":
We re-iterate, it has 0 financial value. There is no pre-mine, there is no sale, no you cannot buy it, no, it won't be on Uniswap, no, there won't be an auction. We don't have any of it.
YFI is expensive due to its small supply that currently stands at just 30,000 tokens. It currently represents less than 0.45 percent of Bitcoin's total circulating supply.