On Twitter, XRPL Monitor shared that the top-tier exchange Binance has transferred 61 mln XRP over the last 24 hours, receiving XRP from other exchanges and sending a large portion of XRP to Ripple.
Binance wires 61 mln XRP
The major Twitter bot that tracks large XRP transactions has detected several gargantuan amounts of XRP transferred, and these transactions have mainly to do with Binance.
Binance made two wires—40 mln and 7 mln XRP—between its internal crypto wallets, totaling $11,423,999.
Binance shifted 14,029,998 XRP to Ripple, or $3,410,185. CryptoComes previously covered large lumps of XRP wired by Binance to Ripple several times, and those transfers have so far been unexplained.
The trading giant managed by Changpeng Zhao (CZ) also received 7 mln XRP from the OKEx exchange, or $1,701,447.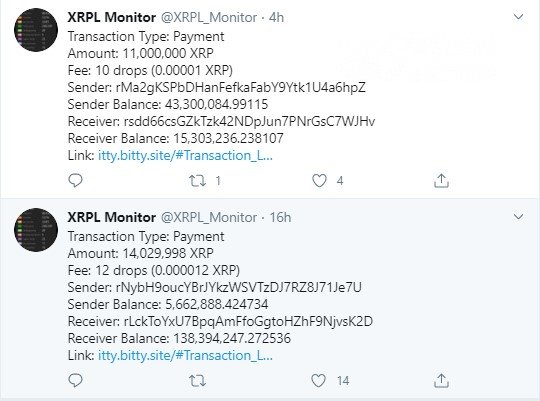 Image via Twitter
Binance Futures adds XRP to its asset conversion function
Earlier this week, Binance published a post about adding XRP and four other digital assets—including TRX, ETC and LTC—to its asset conversion function.
This function used on Binance Futures enables traders to convert the coins they hold in the coin-margined futures wallet.
This way they will not have to withdraw coins from the wallet first, convert one coin to another and then put them back into the futures wallet.