Binance, a world-leading cryptocurrency exchange ecosystem, has released a "wrapping" tool. It allows non-Ethereum tokens to "exist" on Ethereum (ETH) blockchain in the form of a synthetic asset.
Introducing BTokens by Binance
According to an official statement by Binance, its Token Canal Program introduces the first batch of assets "tokenized" on the Ethereum (ETH) blockchain. It includes Bitcoin (BTC) and three altcoins.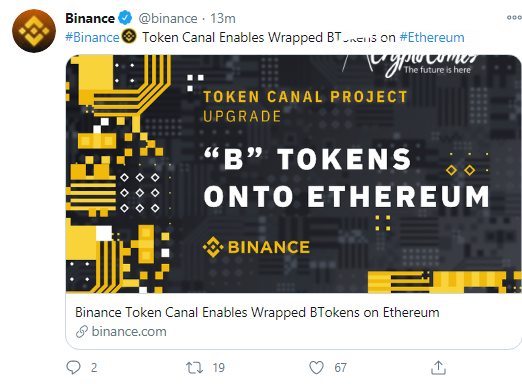 Image via Twitter
The inaugural release features Polkadot (DOT), a backbone asset of Polkadot's cross-chain infrastructure; Filecoin (FIL), the native token of the decentralized data storage protocol and WazirX (WRX), an exchange token of the leading Indian crypto-to-fiat exchange acquired by Binance in 2019.
Dubbed as BBTC, BDOT, BFIL and BWRX, new tokens belong to the ERC-20 standard for Ethereum assets. Deposits and withdrawals for these coins also commenced on Binance today.
As clarified in the announcement, Binance locks the tokens in their native chains and mints the corresponding amount on Ethereum (ETH). The process of mining can be checked by Ethereum (ETH) explorers.
"Wrapping" solutions are on fire in 2020
"Wrapping" instruments that allow issuance of synthetic assets via programmatic platforms (Ethereum, Eos, Tron, etc.) are very popular since they significantly increase the liquidity available in decentralized applications. Most commonly, wrapped assets are used in decentralized financial protocols (DeFis) and on decentralized exchanges (DEXs).
Although Bitcoin (BTC) cannot be exchanged into Ethereum (ETH) or ERC-20 tokens directly (they follow different blockchain rules), "Wrapped Bitcoin" (including Binance's BBTC) can interact with any token in a peer-to-peer manner.
As covered by CryptoComes previously, DeFi euphoria injected new life into the demand for wrapping instruments. In Sept., the number of Bitcoins issued on Ethereum surpassed 100,000 BTC for the first time.
In Q2-Q3, 2020, this supply doubled every three weeks.