On Friday morning, July 12, the crypto exchange with the highest impact on the industry, Binance, issuing a blog post, saying that another portion of BNB had been burned with almost 809,000 BNB eliminated.
Binance conducts token burns every quarter. This time a $23,828,000 of BNB was eliminated.
Binance gives up their own BNB for the burn
In the corporate blog, the CEO, CZ, said that for the first time, the team of the exchange has given up part of the BNB allocated for the company's improvement at the very start (less than a half of the overall emission) and burned them as well. He stressed this fact once again in a tweet.
$23M USD equivalent of $BNB, burned from the Binance Team allocations. The only time we "spent" the Team BNB allocation. I will talk a bit more about that in my live AMA, in about 10 min or so. https://t.co/KQhqf3FJmN

— CZ Binance (@cz_binance) July 12, 2019
At present, there are 189 mln BNB in circulation. The company intends to reduce this figure to 100 mln by conducting quarterly burns.
CZ mentioned that this is the first time the team had ever used their BNB – for giving them up for the token elimination. He also promises that all the allocated tokens will be burned.
Human communication is error-prone.

Team allocation (already allocated) will ALL be burned, at the same schedule as before. There is no possibility (or worries) of team's allocation being sold/dumped on the market.

ie, the team took 0 BNB from ICO allocations, 0 "pre-mine". https://t.co/tKEu0DWNms

— CZ Binance (@cz_binance) July 12, 2019
Futures platform and Binance Visa on the horizon
During the recent AMA that took part in Periscope, CZ also announced the upcoming launch of a testnet of futures market – that is expected to occur before July is over.
CZ also said that the platform is considering the launch of a Binance Visa card.
BNB price responds
After the announcement, the BNB reacted, showing a moderate growth. At press time, the coin is trading at slightly over $31, showing a 4.13-percent rise, as per the CoinMarketCap scale.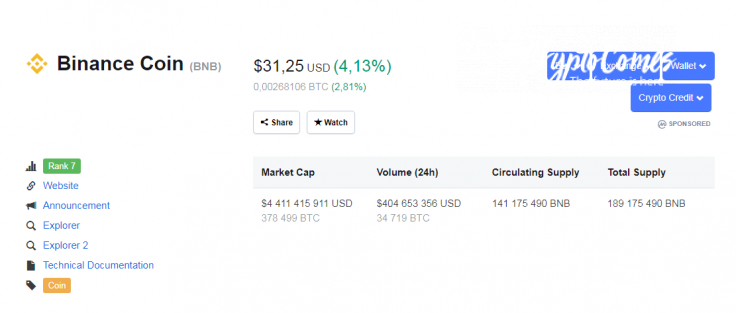 CoinMarketCap.com