Binance CEO Changpeng Zhao claims that the Bitcoin (BTC) price reaching $10,000 is "no longer exciting" in his latest tweet.

The top cryptocurrency by market capitalization breached the psychologically important level for the first time since June 10 at 10:03 UTC on the Bitstamp exchange.
No profit-taking
Zhao's lack of excitement surrounding Bitcoin's latest price rally was in line with the broader market, according to Glassnode's Coin Days Destroyed (CDD) metric.

Every coin collects a "coin day" if it's not moved within 24 hours. These days end up getting destroyed if there is new activity. The latest price move wasn't accompanied by an uptick in newly moved coins, which means that any large-scale profit-taking is unlikely.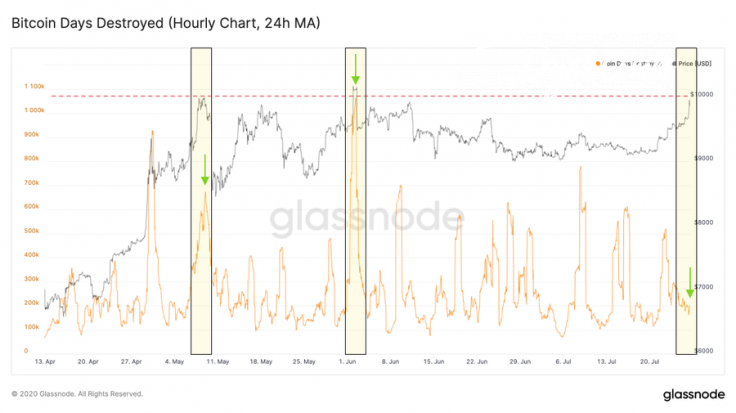 image by @glassnode
The opposite happened the last two times when Bitcoin surged above $10,000. Notably, on both of these occasions, Bitcoin endured sharp sell-offs (11 percent on June 2 and 9 percent on June 11, respectively).

After giving up some of today's gains, the bulls so far remain resilient, with the BTC price sitting at $9,930 at press time.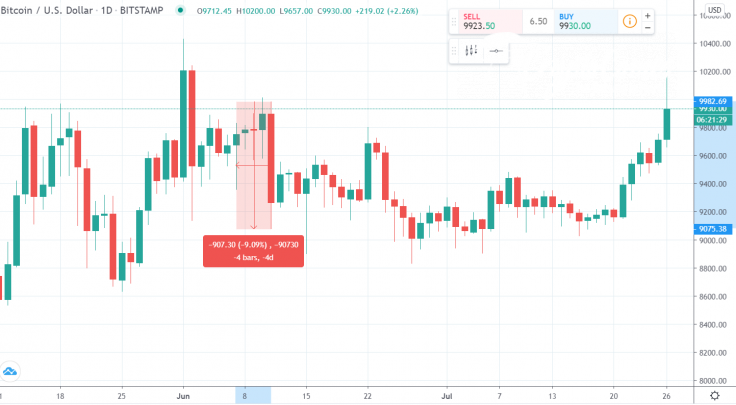 image by tradingview.com
A major challenge ahead
Given that CZ is a self-proclaimed permabull, his price talk should be taken with a grain of skepticism. After all, he claimed that BTC wouldn't hang around for long around $9,000 for long right before the price plunged roughly 50 percent on March 12:
"Some comments say I am the counter signal. Funny. I am ALWAYS bullish, every day/second/tick. I tweet everyday too. You can easily find all down ticks and correlate it with my tweets."
Despite soaring above $10,000, Bitcoin is yet to take out its 2020 high of roughly $10,500 that was hit on Feb. 13.

Fundstrat's Rob Sluymer remains bullish on BTC, expecting its price to eventually push through $10,500:
"We remain positive on the overall precise structure for Bitcoin and do expect it push through $10,000-$10,500 as part of its longer term bullish technical profile."