Blatant scammers launched a fake Twitter account impersonating the support service NeoLine, the universal wallet for the Neo (NEO) ecosystem. It is utilized by Flamingo Finance (FLM), the first Neo-based decentralized financial protocol (DeFi).
Beware: NeoLine support has no separate Twitter account
According to the statement shared by Flamingo Finance (FLM), its users should be careful when interacting with NeoLine wallet. The account that impersonates its customer support service was disclosed on Twitter.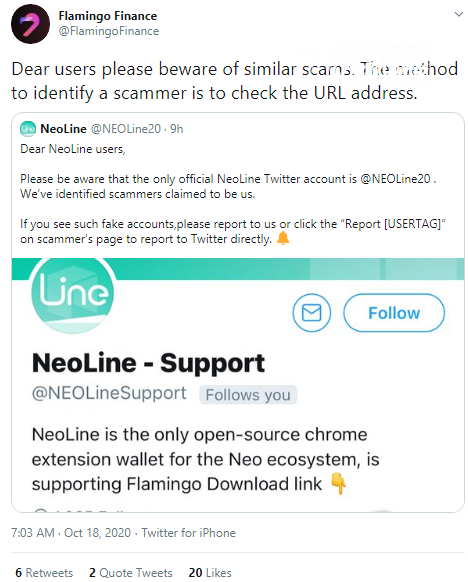 Image via Twitter
The account launched by scammers will most likely be used to disseminate phishing links to the clones of crypto-oriented applications. The fraudulent page disclosed by Neo Smart Economy (NEO) participants has been active since the first days of October.
NEO ecosystem reiterates that the only legitimate NeoLine Twitter account is @NEOLine20. Any other social media account that pretends to act on behalf of NeoLine is operated by scammers.
The NeoLine team asked users of social media platforms to report other suspicious pages to them or to the Twitter diligence service directly.
Flamingo Finance (FLM) DeFi takes shape
NeoLine is the open-source extension wallet designed for NEO-related products including the Flamingo Finance (FLM) DeFi.
While Neo Smart Economy (NEO) blockchain celebrates the fourth anniversary of its mainnet launch, Flamingo Finance (FLM) adds new instruments to its toolkit. On Oct. 16, it launched its first-ever perpetual contracts exchange based on automated market maker Flamingo Perp Module.
As covered by CryotoComes previously, Neo (NEO) is super serious about challenging Ethereum (ETH) domination as a decentralized financial products hosting platform.
Despite problems with traffic at launch on Sep. 24, Flamingo Finance (FLM) surpassed $1.3 bln in total value locked. Flamingo Finance supports interoperability with other blockchains, which is marketed as its "killing feature."