The cryptocurrency market took another huge hit on July 14 with the Bitcoin price tumbling below the pivotal $10,000 level.

Almost all major altcoins witnessed double-digit losses with Ripple's XRP being the only top 10 altcoins that stayed above the fray.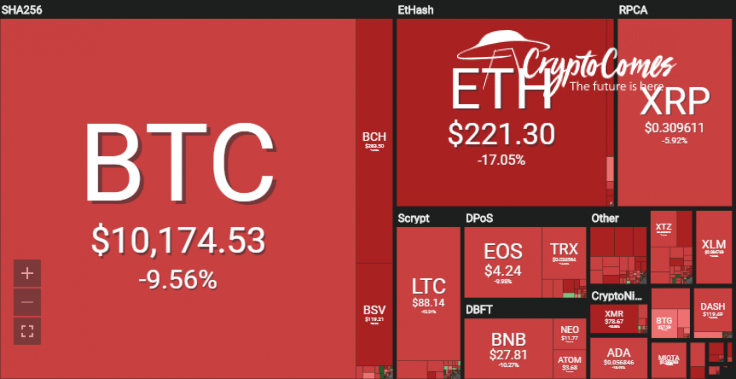 image by Coin360
Fake news and Libra
According to cryptocurrency trader Alex Krüger, Tether allegedly printing $50 bln worth of USDT prompted a short-lasting price recovery, but this fake news wasn't enough to keep the momentum going.
Quick 5% $BTC pump following fake tether news on top of oversold intraday charts. Actual minted tether was $50 million, not $5 billion. https://t.co/BZ6h2slbOI

— Alex Krüger (@krugermacro) July 13, 2019
To top that off, Reuters reported that US lawmakers proposed a bill, which would prevent big tech companies from functioning as a financial institution, which flies in the face of Facebook's Libra.

Krüger claims that it could be another reason for the pullback, which is quite reasonable if to consider that the Libra announcement served as a catalyst for Bitcoin's surge above $10,000.


Altcoins are on life support
Despite Bitcoin's drop below $10,000, its dominance, slowly but surely, continues to grow. At 65.8 percent, it is at its highest level since April 2017.

Back then, the glorious altcoin season was just around the corner, but there is little hope that the same scenario takes place during this bull run.

Even Litecoin, which is on the verge of its halvening event, it currently trading in the $80 region.

While the whole altcoin market is tanking, John McAfee once again makes a case for privacy coins.
The altcoin world wondering what to buy. Vertical markets don't vary. A medical company in the Crypto world will mirror its fiat counterpart. Med companies are the big winners, always. Privacy coins, in a world of crypto transparency likewise can't lose. use your heads.

— John McAfee (@officialmcafee) July 14, 2019