Privacy-focused blockchain ZCoin (XZC), built around zk-proof technologies stack Sigma/Lelantus, announces rebranding to a new name, explains paradigm shift and indicates the date of the new mainnet launch.
Introducing Firo (XFR)
According to an official announcement by the ZCoin (XZC) protocol, from Nov. 30, it will operate under the brand of Firo ("Fee-Roh"). This unusual decision was made due to a complex set of marketing and ideological causes.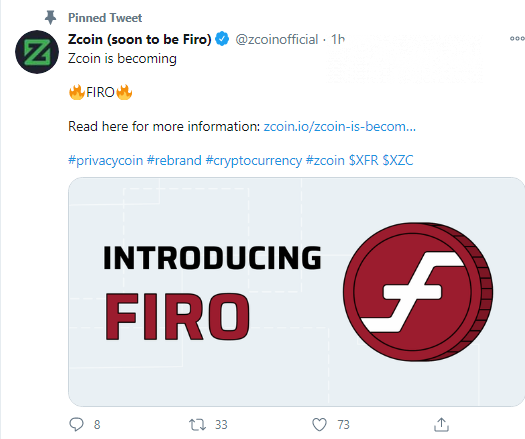 Image via Twitter
The project team believes that the name "Firo" reflects the concept of periodic token supply burning/redeeming, which is a patented feature of this privacy blockchain. In addition, according to the team, "Firo sounds like money."
The rebrand will be effective on Nov. 30: the product website will redirect visitors to Firo.org. The familiar XZC ticker will be replaced by XFR. A new logo with the white letter "F" will be used in all promotional and marketing activities.
Meanwhile, the consensus of the protocol will not activate a hardfork or other system update. Thus, the holders and investors of XZC are required to do nothing but update their wallets to the latest version avaliable. Their XZC balances will be transferred to equivalent XFR ones.
Welcome to Lelantus
Also, the XZC staking activities performed through the Stakehound service will be unaffected by this transition.
On Nov. 30, the ZCoin-Firo team will release binaries required for the mainnet launch of Lelantus, a new stage in blockchain progress. Lelantus will protect the privacy of transactions with a new security scheme. It will replace the existing solution, dubbed Sigma.
ZCoin (XZC) tokens can be sent and received by outdated versions of the wallet until Lelantus is fully implemented in mid-Jan. 2021.
ZCoin-Firo is among the first privacy-focused products in the blockchain segment. Its first software was shipped in 2016.