Today, July 16, 2020, the ZCash (ZEC) blockchain network has successfully hardforked at block 903000. The hardfork occurred at 10:56 UTC. Its fourth major upgrade is called Heartwood.
Light-client features and cross-chain integrations
As revealed in an official statement by ZCash (ZEC) developers, the Heartwood upgrade included two improvement proposals, i.e., ZIP 221 (Flyclient) and ZIP 213 (Shielded Coinbase).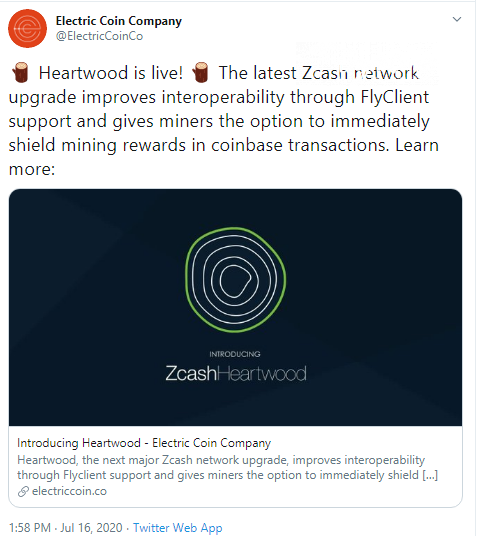 Image via Twitter
The first improvement has facilitated the operations of proof-of-work light clients. It improves interoperability with numerous cross-chain protocols. Also, it will be useful in enabling future FlyClient protocol specifications.
The second proposal reconsiders the process of sending mining rewards to addresses. With the modifications activated by the Heartwood hardfork, the coinbase funds are directed straight to the shielded addresses introduced by the Sapling upgrade.
The utilization of shielded addresses helps to obfuscate transactions and, thus, advances the level of privacy guaranteed by ZCash (ZEC) consensus for its users.
Privacy first
The developers recalled that previously the concept of shielded transactions required huge amounts of memory and computational resources. Then, with the Sapling upgrade, shielding funds were transferred to coinbase transactions.
With the last hardfork, miners are able to start the process of migration from transparent to shielded addresses. This process will not begin immediately and, if it is more comfortable for them, ZCash (ZEC) miners may continue using an old-fashioned transparent address.
Developers expressed the hope that post-Heartwood ZCash (ZEC) will have an unmatched level of privacy and a reliable "anonymity set." ZIP 213, therefore, upgrades the "shielded support" of the ZCash (ZEC) ecosystem significantly.