The popular noncustodial wallet for XRPL-based assets, XUMM, has released a new version. What are the updates and why is v0.6.0 the "Last Beta" before a full-fledged v1.0?
QR codes, in-app update checks and payments plugins: new in XUMM
XRPL Labs, the team behind a number of products for XRP Ledger, including XUMM wallet, has announced that XUMM's "Last Beta" version is up and running. The next release will indicate the transition to fully functional stable versions.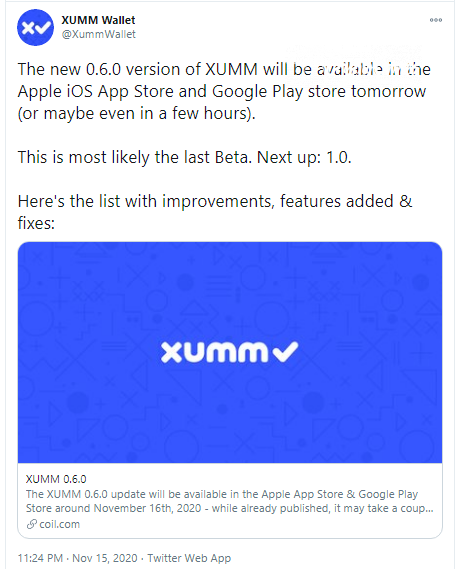 Image via Twitter
It includes meaningful updates partially submitted by the community. For instance, it now allows mobile app users to check XRPL operations and receive notifications when the updated software version becomes available.
Also, it features a plugin module for WooCommerce, a popular e-commerce platform. The new plugin allows merchants to accept XRP payments. Wietse Wind, the lead developer of XRPL Labs, stressed that the new release is much more stable than its predecessors:
But we already removed the balance warning last version, as XUMM security, sending & receiving has been thoroughly tested.
UX/UI are polished in new XUMM release
Mainly, the updates in the new release improve the user experience for XRP holders. Every XRPL object is now displayed on a dedicated tab. Inactivated accounts received a special QR code to send them initial funding. Also, QR codes may now be used to check the transaction's destination.
Every link related to XRP Ledger can now be opened in an alternate browser. Once the payment is cancelled, its destination account is showed in the Sign Request screen.
Developers reconsidered transaction search, sending screen and added separators to show balances correctly.
As covered by CryptoComes recently, XUMM wallet is running a translation bounty campaign. Experts in all languages are welcome to join as contributors.
Rewards starting from 0.25 to 2 XRP are assigned to the authors of the best translations, corrections and active voters.