Bitfinex Borrow, a peer-to-peer lending/borrowing ecosystem by top-tier cryptocurrencies exchange Bitfinex, shares an update about the suite of assets avaliable for collateralizing. Four assets from the Top 15 can be used to obtain crypto and fiat loans.
XRP, EOS, LTC, DOT now accepted as collateral on Bitfinex Borrow
Bitfinex Borrow updates the list of assets accepted as a collateral for USD and USD Tether (USDT) loans. Now, Bitcoin (BTC) and Ethereum (ETH) are accompanied by XRP, Eos (EOS), Litecoin (LTC) and Polkadot (DOT). This statement was released today, Dec. 14.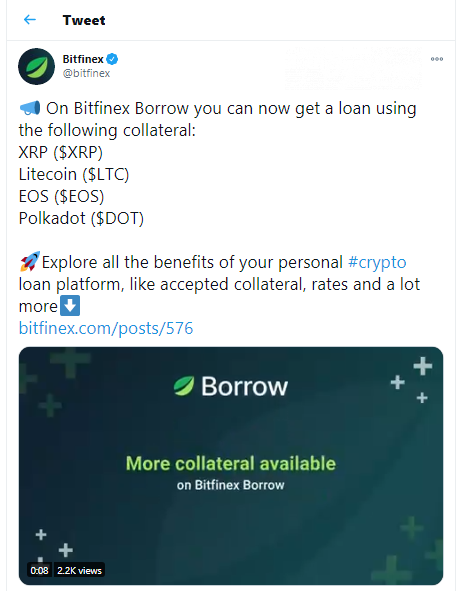 Image via Twitter
New assets can be collateralized with various loan-to-value (LTV) ratios. Holders of XRP, LTC and EOS can obtain loans of up to 80 percent of their collateral while, for DOT, this indicator sits at 70 percent.
Also, the annual percentage rates for the four assets vary significantly. XRP-collateralized loans are the most expensive: 13.07 percent in APR is established. Litecoin-collateralized loans have an APR of 7.9 percent while the ratios of DOT and EOS are negligible: 0.0192 percent and 0.0004 percent, respectively.
To provide some context, Bitcoin (BTC) is accepted with 19.69 percent APR for USD-settled loans and 12.42 percent for USDT.
New instruments, new liquidity
As noted in the official statement by Bitfinex, to obtain loans on Bitfinex Borrow, the user needs to deposit a sufficient amount of collateral to his/her Margin Account.
Both the Flash Return Rate (FRR, variable rate) and fixed-rate lending programs are avaliable to holders of newly-added coins.
Borrowers can customize the length of the loan period. Fixed rates are avaliable only for loans of up to 120 days. Once this term expires, the rate changes to variable. Withdrawals of loans are available only for fully verified accounts.
Both principal and interest rates can be repaid partially or as a whole by sending the funds into the Margin account. Daily interest rates can be reduced after partial repayment.