Prominent cryptocurrency analyst Qiao Wang, who's also the co-founder of leading on-chain research firm Messari, has shared his views on retail adoption of XRP, Litecoin (LTC) as well as Aave (AAVE) and Synthetix (SNX), the native tokens of the eponymous decentralized finance protocols.
An arduous journey of retail adoption
Darryl Wang, an investment expert at flagship DeFi investment firm DeFinance Capital and a former JPMorgan officer, has admitted that it would be painful to see how retail bets on old-school coins instead of looking at DeFi "blue chips." Mr. Qiao Wang shares his concerns.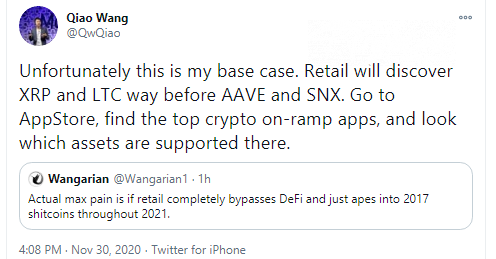 Image via Twitter
Mr. Wang claims that XRP and Litecoin — which are widely criticized as "zombie chains" — still have much more chance of being adopted by the retail crowd than flagship DeFi unicorns such as Aave Protocol and Synthetix Network.
Among other reasons, this may be attributed to the policies of crypto exchange services regarding popular DeFi applications. Barely all of them have XRP and Litecoin (LTC) in their trading suites. By contrast, DeFi tokens are still very rare when it comes to retail crypto-to-fiat off-ramps.
As covered by CryptoComes, top-tier U.S.-based exchange Gemini dropped a bombshell in September with its "DeFi listing" announcement.
The exchange of the Winklevoss twins added Balancer (BAL), Curve Protocol (CRV), Synthetix Network (SNX), Maker DAO (MKR), UMA Protocol (UMA), Uniswap (UNI), and Yearn.Finance (YFI). This release was called "the most massive DeFi listing campaign ever."
'XRP must be legit'. But why?
Right now, Mr. Qiao Wang added, at least three institutional investors are ready to invest in XRP. The monstrous capitalization of XRP is the main catalyst behind their motivation:
The rationale is "XRP is #3 by marketcap so it must be legit."
The analyst highlighted the drawbacks of this approach and stressed that the terms of the U.S. stocks market cannot be applied to crypto.
The search volume for XRP skyrocketed in Q4, 2020 both in the U.S. and worldwide. This euphoria may be fueled by the much-hyped launch of Flare, the first XRP Ledger fork with smart contracts.
All XRP holders will receive Spark (FLR), the native tokens of the new fork. The snapshot of the balances will be taken on Dec.12, 2020, at 00:00 UTC.