Following the inaugural presentation of XRP Ledger Foundation, its enthusiasts decided to explain the rationale behind its launch. Why won't it be just another ordinary community-driven development fund?
Top-tier objectives indicated
According to an official statement shared by XRP Ledger Foundation leaders on Coil, a blog platform for the XRP community, their project's agenda differs from that of the Community Fund launched years ago.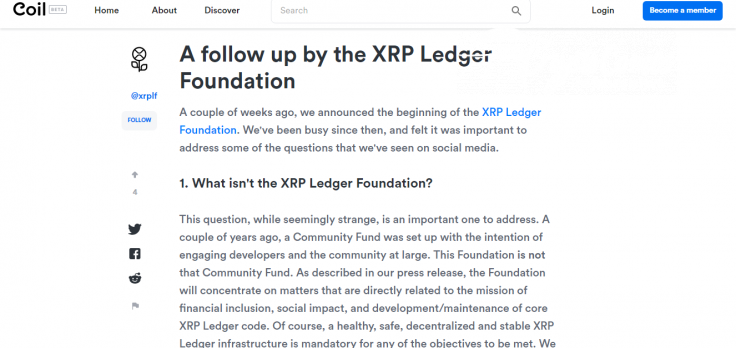 Image by Coil
It is stressed that XRP Ledger Foundation will be focused on social impact, financial inclusion and the development and maintenance of reliable XRPL code. All three goals can only be achieved within healthy, decentralized and safe XRP Ledger infrastructures.
Meanwhile, the objectives of community development and management have not been ignored by the XRPL Foundation. A special entity for the oversight of these tasks is now taking shape within the foundation. However, its operations will be separated from that of the newly introduced foundation.
In the near future, the foundation's community development arm will disclose its program, structure and mandate. This announcement will come once all legal and organizational requirements are met.
XRPLF is backed by XRP Ledger trusted voices
At press time, two inaugural members of XRP Ledger foundation have been disclosed: Mr. Wietse Wind and Mr. Bharath Chari.
Wietse Wind is the lead developer of XRPL Labs, seasoned core contributor to XRP Ledger and author of crucial releases for XRP-oriented infrastructure. Bharath Chari is an owner of Alloy Networks, the long-term XRP Ledger validator team.
At the moment, both placeholders are tasked with solving legal issues, incorporating and establishing a strong board capable of driving the progress of XRP Ledger and XRPLF.