Today is August 1 and Whale Alert has reported that blockchain monster Ripple did it again – released one billion XRP from escrow.
Meanwhile, XRP has printed a 10.27-percent rise and surged to $0.27. However, now XRP has slipped a little below that level already.
Another billion XRP is out of escrow
Ripple has been releasing one billion XRP every first day of the month since 2018. These escrow releases sort of divided the XRP community in two parts where one part believed these transactions to be holding XRP down on the market (due to the dump).
The other half of the community insisted that this was good for the XRP liquidity – this opinion was prompted by the Ripple CEO Brad Garlinghouse in late 2019 when he addressed the numerous complaints about the 'XRP dumping'.
It is worth noting that both sides started an online petition. Creators of one of them were trying to get Ripple stop spitting out XRP and let the price grow. The other petition encouraged the blockchain heavyweight to continue releasing its crypto and increase its liquidity and utility.
Additionally, on the first day of each month, following the release of 1 bln XRP, the biggest part of it (around 800,000-900,000 XRP) is sent back to escrow.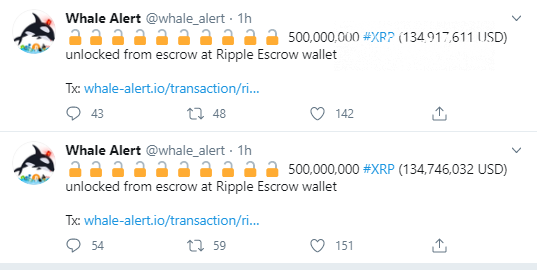 Image via Twitter
Ripple hits $0.27, rising over 10%
Over the past twenty-four hours, XRP has surged from $0.24 to $0.26 and briefly hit a high of $0.2701 in between, according to CoinMarketCap.
The rise that this platform recorded earlier today totalled 10.27 percent.
Besides, recently XRP managed to recapture its top-three spot and pushed USDT back to position four.