Real-world blockchain adoption has accomplished an incredible milestone. For the first time ever, stablecoin-based remittances are used to circumvent the sanctions imposed by a tyrant.
A helping hand
Jeremy Allaire, cofounder and CEO of payment giant Circle, has shared news of an unusual mission of its USD Coin (USDC) stablecoin. The U.S. Treasury and Federal Reserve will use it to send humanitarian assistance to Venezuela.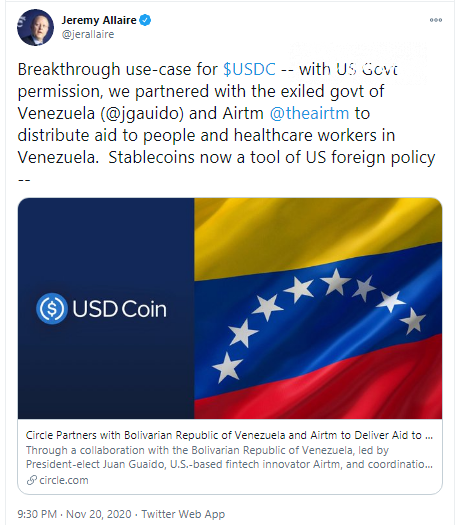 Image via Twitter
Previously, U.S. authorities seized assets that were intended for Nicolas Maduro, the Venezuela autocrat under U.S. Office of Foreign Assets Control (OFAC) sanctions. Now they have released all seized funds to president-elect Juan Guaidó, who has been in exile since early 2019.
In turn, his government is allowed to mint USDC tokens in collaboration with Circle. Finally, the newly-minted tokens will be sent to Airtm, a blockchain-based payment system popular in Latin America.
In Venezuela, the funds will be distributed among healthcare workers in the form of AirUSD, the U.S. Dollar-pegged stablecoin issued by Airtm. As a result, they will be able to claim the money through bank accounts or virtual debit cards or spend it in peer-to-peer payments.
USDC fixes this
This program is intended to support local healthcare workers with food and personal protection equipment. In Maduro's Venezuela, doctors are underpaid and the local import/export market has been totally destroyed by draconian state control.
Investment veteran and author of Bitcoin Reformation theory, Tuur Demeester, highly praised the achievement of Circle:
Congratulations Jeremy & team - that's fantastic!
It is not the first time that cryptocurrencies have replaced depreciated traditional financial institutions in Latin America. For instance, Dash (DASH) and XRP cryptocurrencies are widely used for cross-border remittances and daily payments.