Today, one more blockchain giant joins the incredible race of decentralized financial instruments, or DeFis. Tron Foundation (TRX) launches one more product under its umbrella, JustSwap DeFi, on its native Tron blockchain.
Tron releases DeFi, achieves major 2020 milestone
According to the official social media channels of the Tron Foundation, JustSwap DeFi ecosystem will be launched today, Aug. 18, at 22:00 SGT. The launch of JustSwap will be livestreamed by Justin Sun on Periscope, YouTube and, of course, Tron's DLive.
🚀Tonight!

Catch @justinsuntron in a livestream at 22:00 (SGT) to introduce the latest addition to the #JUST ecosystem: #JUSTSWAP! 🎉#JUST and beyond 🚀

👉DLive: https://t.co/Qr9yaAMMfh
👉Periscope: https://t.co/0Yxy0QWkyp
👉YouTube: https://t.co/WCL42IJ3Hw pic.twitter.com/MZvaFfP08P

— JUST (@DeFi_JUST) August 18, 2020
The new DeFi has already been released in testnet Beta. JustSwap will be powered by Tron-based oracle AlphaLink. Also, numerous well-known products, such as TronLink and Huobi, will support JustSwap release as launch partners.
As previously covered by CryptoComes, Mr. Sun emphasized in his recent AMA that DeFi is a focus of 2020 for the Tron Foundation. Thus, the launch of JustSwap is among the most crucial milestones for Tron's ecosystem development this year.
Initially, the new instrument will act as a decentralized cryptocurrency exchange protocol. It is intended to attract users through low latency, fast transactions and periodic liquidity rewards. JustSwap will be part of the JUST lending/borrowing system built around USDJ stablecoin.
Brilliant Q3, 2020, rally for TRX
Numerous significant releases and announcements by Tron Foundation made possible a splendid run of its first asset, Tronics (TRX). According to CoinGecko, a leading independent on-chain data vendor, TRX has added 71.2 percent during the last 30 days.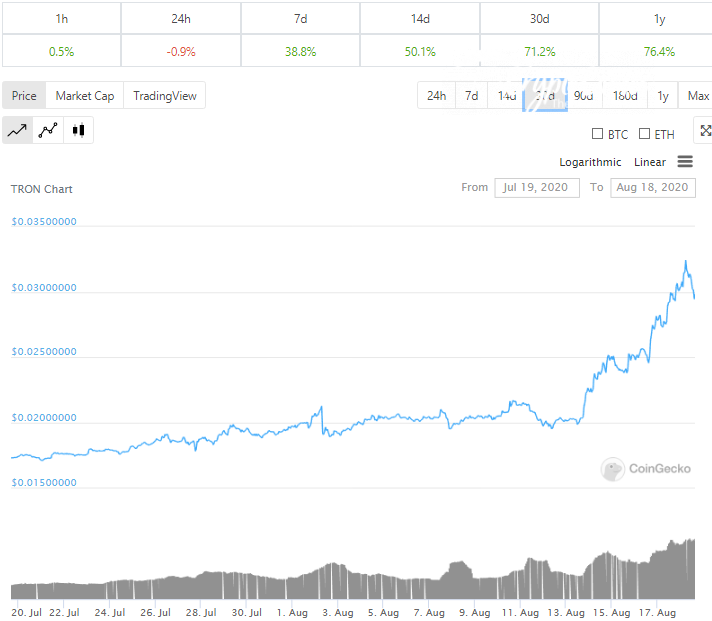 Image by Coingecko
This growth coincided with the migration of Tron ecosystem to Tron 4.0, a new stage in its development. Mr. Sun highlighted an increased level of community commitment, in particular in India, Turkey and Russia.
Another aspect of Tron's bright prospects is correlated with institutional adoption of Tron-based products. Furthermore, in August, Justin Sun unveiled that BitTorrent protocol applications have been downloaded more than 2 bln times:
Remarkable historic milestone for #BitTorrent reaching 2 billion installs which means 28% of the world's population has used our product! As Shakespeare said, "What's past is prologue". Next goal is to make decentralized web & DeFi available to all 7 billion globally!