Mr. Luedtke, who is tasked with Ethereum (ETH) solutions development at ConsenSys—a top-level software corporation—has recalled one bet that was set on May 31, 2019, at Consensus' 2019 global blockchain conference.
5 dApps, an impossible target for Ethereum (ETH) from the perspective of 2019
According to Mr. Luedtke, seasoned blockchain researcher, Bitcoin (BTC) educator and entrepreneur Jimmy Song bet against Joseph Lubin, co-founder of Ethereum and founder of ConsenSys, in 2019. Mr. Song claimed that, in its first five years, the Ethereum (ETH) network would not manage to onboard five dApps with 10,000+ daily users each.
Last year, prior to the #defi explosion, @jimmysong bet @ethereumJoseph 810.8 #ETH / 67.94 #BTC that in 5 years, #ethereum wouldn't have 5 #dapps with over 10k daily active users...

Sorry Jimmy... I think you're probably going to lose this one...

— billΞ.eth (@BillyLuedtke) August 4, 2020
A total of 810.8 Ethers or 67.94 Bitcoins (BTC) were at stake. The bet was announced amidst the bullish run of late Q2, 2019, and it is interesting that, at press time, that amount ranges between $324K and $768K due to the fact that Ethereum (ETH) has significantly outperformed Bitcoin (BTC) in the past few months.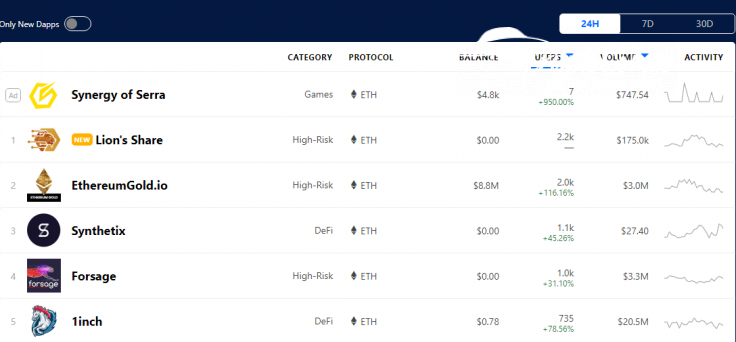 Image by DappRadar
However, Ethereum (ETH) DeFi segment popularity has skyrocketed in 2020. According to the most credible decentralized applications explorer, DappRadar, Ethereum (ETH) has onboarded almost 2,000 on dApps.
None of them managed to reach the 10,000 daily users bar, but the leaders—high-risk fast income schemes Lion's Share and EthereumGold—attract more than 2,000 users daily.
Bitcoin (BTC) network is also hardly predictable
Mr. Luedtke recommends that readers utilize the State of the DApps explorer that has registered the pioneer of this level of popularity. According to State of the DApps, the Forsage Ethereum-based Ponzi scheme witnessed 18,200 daily users.
The most popular DeFi is the Synthetix platform that welcomes 1,100 users in 24 hours, according to DappRadar.
Some commentators responding to Mr. Luedtke recalled the predictions of Mr. Song regarding the Bitcoin (BTC) network:
2020 Predictions Part 1: * Bitcoin dominance will be 75%+ at end of year * Taproot will be activated without much controversy * Bitcoin price will have a bottom to top difference of at least 100% * Halving will be the big narrative.
The turbulent year of 2020 may still bring many surprises, but only one in four predictions has played out so far: the thesis about the 100% bottom-to-top difference.