Tether Limited, the issuer of the most popular stablecoin—the U.S. Dollar Tether (USDT)—has shared news of yet another crucial milestone for USDT in 2020. This token becomes the first ever Dollar-pegged digital asset to surpass $20 billion in equivalent in market capitalization.
$20 billion: the last milestone for 2020?
According to the latest tweet by Tether Limited, its flagship asset, USDT, has surpassed $20 billion in market capitalization. That means that more than 20,000,000,000 USDT are active and transferable on different blockchain platforms.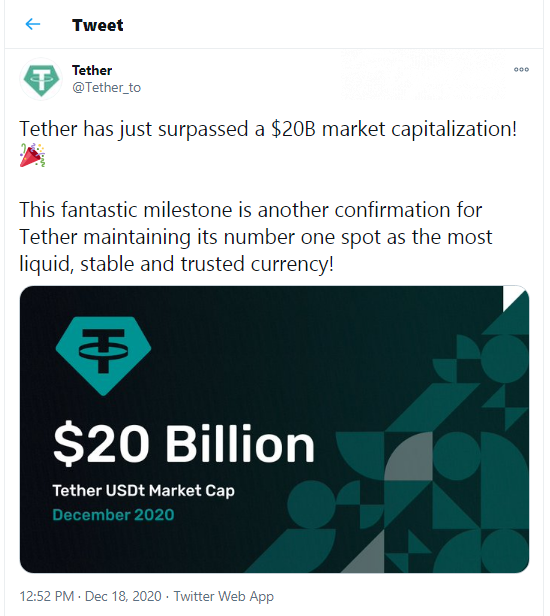 Image via Twitter
The Tether Limited team emphasizes that it is liquidity, stability and trust to which USDT owes its monstrous success.
According to the official Transparency Dashboard by Tether, its net supply is around $20.2 billion in equivalent. However, its tiny fraction is authorized, but not technically minted, on corresponding blockchains, while 31 million USDT are quarantined on Omni.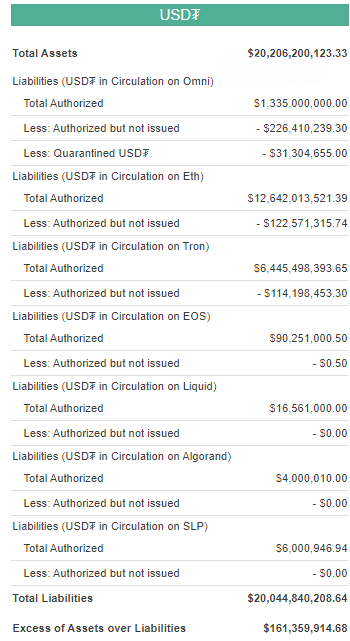 Image by Tether
Sixty-two percent of the net USDT supply is minted on Ethereum (ETH) blockchain, while Tron (TRX) remains the most fastest growing hosting environment for USDT: 31 percent of its supply circulates as TRC-20 tokens. The inaugural USDT platform, Bitcoin-based Omni Layer, now hosts 6.5 percent only of its mammoth supply.
Thus, other platforms—Eos (EOS) and Algorand (ALGO) blockchains, Liquid and SLP second-layer solutions—are utilized by USDT, mostly experimentally, as the process occupies less than 1 percent of the USDT supply in total.
USDT supply is up 400 percent in 2020
Also, some Tethers are transferred via OMG Network (formerly Omise Go) Ethereum-based solution, while the launch of USDT on Solana (SOL) has been scheduled by Tether Limited.
It should be noted that, in January 2020, the USDT supply barely surpassed $4 billion. So, the number of USDT available for trading quintupled in this turbulent year.
USDT's closest competitor, USD Coin (USDC) by Circle, has raised its supply to $3.3 billion in equivalent. The algorithmic stablecoin DAI is the third unicorn in this segment with its $1.1 billion in equivalent.