On July 13, Whale Alert reported that the USDT issuer, Tether, incidentally released $5 worth of USDT stablecoins and then burned them to correct the mistake.
💵 💵 💵 💵 💵 💵 💵 💵 💵 💵 5,000,000,000 #USDT (4,996,932,524 USD) minted at Tether Treasury

Tx: https://t.co/2FzJrc3tyi

— Whale Alert (@whale_alert) July 13, 2019
Whale Alert gets alerted on Tether
Whale Alert is an account on Twitter that reports big transactions of crypto between addresses.
On Saturday, July 13, it spotted a transactions of 50 mln USDT from the Poloniex exchange to the Tether Treasury. The operation was conducted on the BTC ledger via the Omni protocol.
Whale Alert then reported that Tether Treasury had issued 5 bln USDT on the Tron ledger and then destroyed the whole amount.
Later on, 50 mln USDT more were issued on Tron. The company destroyed 4.5 bln USDT and then sent 50 mln USDT made on Tron to a Poloniex wallet, as per Whale Alert.
An intended Omni-Tron USDT exchange
Paolo Ardoino, the Tether CTO, tweeted to the community that the company was intending to swap 50 mln Tether based on the Omni protocol to USDT made on Tron. However, an error with decimals apparently took place.
While preparing the issuance for Omni to Tron swap there have been an issue with the token decimals. Please check the burn transactions below @Tether_tohttps://t.co/reEW51qCqihttps://t.co/zo5i3ayTuQ https://t.co/h1Y9Mnr4Oq

— Paolo Ardoino (@paoloardoino) July 13, 2019
This was also confirmed by a response on the Poloniex Twitter account.
Paolo is correct - this occurred while Poloniex was conducting a USDT chain swap with the help of Tether. An incorrect amount of USDT was accidentally minted, and this has since been resolved to the intended value.

— Poloniex Exchange (@Poloniex) July 14, 2019
Some users in the comments have assumed that this was another controversial move by Tether and Company (Bitfinex), saying that the 'mistake with decimals' was nothing but money laundering.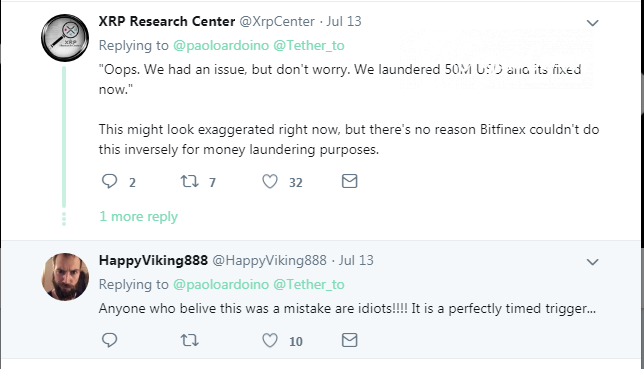 Image by twitter