Skew, a leading on-chain data vendor focused on derivatives trading, has shared a blog post that covers the six most difficult questions from institutions that are considering Bitcoin (BTC) as an investment.
Crypto king: liquid, active, growing
Skew representatives admitted that they are frequently asked about how liquid the Bitcoin (BTC) market is today. An analyst noticed that, while Bitcoin (BTC) spot market volume surpassed $500 mln in 24 hours, Bitcoin (BTC) futures platforms managed to on-board way more liquidity though this segment is less than three years old.
Even Bitcoin (BTC) options markets, despite being in a nascent stage of development, surpass $750 mln in 24 hours within periods of increased trading activity. All sorts of derivatives trading ecosystems are gaining steam, historical data shows.
In terms of periodic activity, Bitcoin (BTC)—despite being available for trading 24/7—follow some rules of "classic" assets:
However, we see behavior similar to the equity markets with mostly quiet weekends and a substantial pick up in activity around the US open.
Mid-term Bitcoin (BTC) behavior also demonstrates clear patterns, with a mostly bearish Q1 followed by a bullish Q2.
Don't overestimate Bitcoin's (BTC) volatility
Also, investors are concerned about "steep curves," i.e., low APY calculated in U.S. Dollar equivalent. Skew stresses that this should be attributed to a very limited amount of cash available on most crypto platforms. Additionally, this factor may be mitigated by the growing popularity of lending/borrowing ecosystems that accept crypto as collateral.
Skew analysts are very far from indicating either retail or institutional interest as a main catalyst of the ongoing Bitcoin (BTC) rally. They highlight that derivatives markets are setting new ATHs in trading volume while Google searches for Bitcoin (BTC) are nowhere near late-2017 levels.
Insane volatility is what the crypto king is criticized for by aggressive anti-Bitcoiners. However, Skew noticed that Bitcoin (BTC) either gained or lost less than 2 percent of its price within 207 days of this year.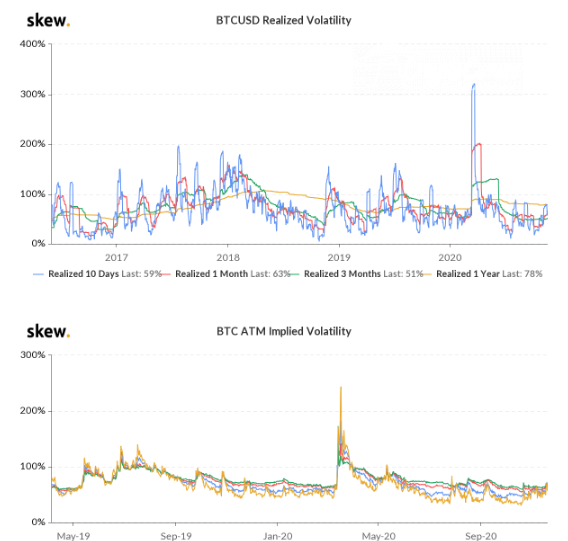 Image by Skew
Finally, Skew researchers shared statistics on expectations based on futures market data analysis. According to Skew, 7 percent of Bitcoiners expect their beloved asset to cost $40,000 by the end of Q2, 2021.