Popular decentralized financial ecosystem Cream Finance (C.R.E.A.M.: Crypto Rules Everything Around Me) offers peer-to-peer noncustodial exchange of cryptocurrencies and lending/borrowing instruments. Now the prices of the asset in Cream Finance are broadcasted via Chainlink (LINK) oracles.
Chainlink (LINK) oracles go live in Cream Finance
According to the official announcement by Cream Finance, Chainlink (LINK) oracles will verify the accuracy of Ether-denominated prices of major assets: namely Chainlink (LINK), Compound Finance (COMP), Yearn.Finance (YFI), Binance USD (BUSD), USD Tether (USDT), USD Coin (USDC), Uniswap (UNI) and Aave Protocol (AAVE).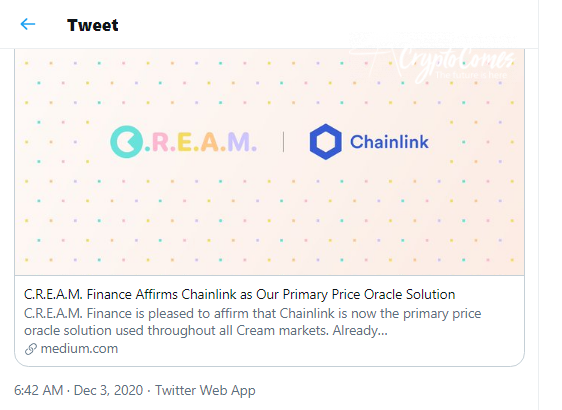 Image via Twitter
Oracles by Chainlink (LINK) will be used to calculate the current volume-adjusted market prices of assets. The Chainlink team is certain that the integration of the flagship decentralized oracle network will protect Cream Protocol "yield farmers" from price slippages and market manipulations:
Chainlink ensures that C.R.E.A.M. has access to the most robust and accurate price data in order to maintain a safe and reliable liquidation process, even during outlier events such as flash loans, high gas prices, periods of network congestion, and centralized infrastructure outages like the recent Infura incident.
Also, LINK tokens, the core native assets of Chainlink, are now available as collateral, so all LINK Marines can now earn on their bags.
LINK joined the club of 30 digital assets available for lending/borrowing and peer-to-peer exchange on Cream Finance (CREAM).
CREAM price spikes on the news
Following this impressive announcement, the price of the native Cream Finance token, ERC-20 asset CREAM, gained 21.6 percent in a few hours and revisited the late September levels and witnessed a new local high at $87.
Cream Protocol is included in the Top 15 DeFi protocols by total value locked, in accordance with statistics by DeFi Pulse aggregator. It harnesses the power of both Ethereum (ETH) mainnet and Binance Smart Chain (BSC), a programmatic environment by Binance (BNB) leading crypto exchange.
At press time, it operates $147 million of users' liquidity with BOND, KP3R and SUSHI as the most popular assets for "yield farming."