Flare Networks, the development team tasked with building Flare, a "utility fork" of XRP Ledger, has issued a warning about numerous scams involving FLR tokens. The key point is that this token does not even exist yet.
Beware: nobody is able to give you FLR tokens right now
Yesterday, Dec. 13, the Flare Networks team released two alarming statements. According tho them, scammers started to offer XRP holders "limited opportunities" to buy Spark (FLR) via closed "initial exchange offerings" on Uniswap and some other platforms.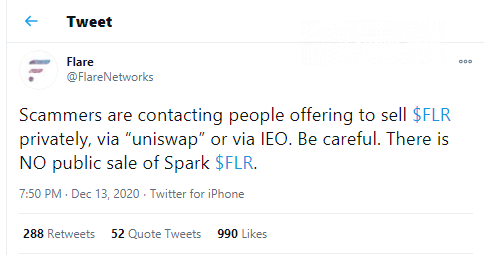 Image via Twitter
Developers reiterated that no public tokensale of FLR is scheduled. The recent airdrop to XRP holders was the only legitimate way to acquire FLR tokens.
At press time, CryptoComes has detected seven different assets on Uniswap that somehow abuse the names of Spark (FLR) token and Flare blockchain. Most likely, all of them are blatant scams.
FLR tokens will be airdropped in Q1-Q2, 2020, according to another statement by Flare Network. This distribution will take place only after Flare blockchain is deployed in mainnet. The snapshot of XRP balances required to claim FLR tokens was sucessfully accomplished on Dec. 12.
Tokens will be released in a 1 FLR:1 XRP proportion while some scammers offer them at $14.75 (more than 29 XRP in actual prices).
More hype, more scams
Due to the enormous euphoria around Spark (FLR) distribution, which has already pushed the XRP price above its multi-month high, scammers are particularly active in this field.
Some XRP Army soldiers told Twitter about especially sophisticated scams that involve FLR. Fraudsters launched a fake Flare Networks website that redirects users to the Uniswap pool with "FLR tokens."
Malefactors launched fraudulent website and offer "buying" Spark (FLR)
Other users tell of the "insider airdrop" of Spark (FLR). Everyone can allegedly pay 0.7 Ether (about $400) and claim Spark (FLR) with a 3x "founder's bonus" from the Flare Networks CEO.
Needless to say, all of these campaigns have nothing in common with the legitimate Flare blockchain that is about to go live in early-to-mid 2020.