It its recent tweets, XRPL Monitor bot mentioned several major XRP transactions made by the blockchain heavyweight from San Francisco and its founder Jed McCaleb, who parted ways with Ripple seven years ago.
The latter has been selling more XRP from the financial compensation he regularly gets from Ripple.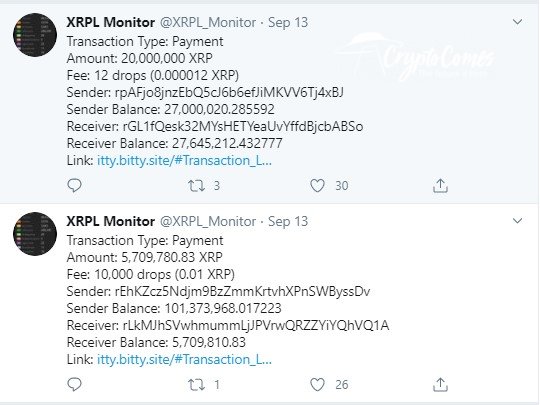 Image via Twitter
Jed McCaleb moves 11.4 mln XRP to cash out
McCaleb is the former CTO of Ripple. He co-founded OpenCoin (Ripple's former name) and then left to try out his own ideas and ended up creating Stellar, a Ripple rival that targets financial institutions with its XLM coin.
However, he and Ripple signed a settlement agreement and, for his role as a Ripple founder, Ripple has been making regular XRP payments to McCaleb.
Jed McCaleb is also known as the founder of the troublesome Mt. Gox exchange.
XRPL Monitor noticed two transfers of 5.7 mln XRP each earlier today. Both wires were made from the "tacostand" wallet which is known to belong to Jed McCaleb.
The overall XRP amount he has transferred totals $2,772,240.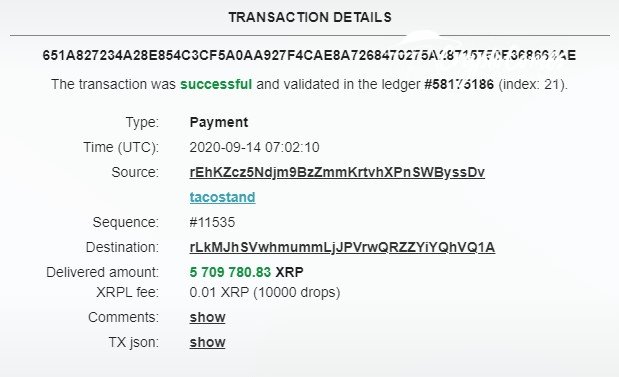 Image via Twitter
Ripple shifts 20 mln XRP
The Twitter bot also detected a transaction bearing 20 mln XRP—$4,863,578—made between anonymous digital wallets.
Analysis of data from the Bithomp website showed that those addresses belong to the Ripple decacorn.
As for the current market stance of XRP, it is changing hands at $0.24, having moved to position four from the third spot on CoinMarketCap.
On Aug. 17, XRP fell from its $0.32 high and, having reached $0.29, has been declining since then.