On the first day of September, Ripple blockchain service provider has made a programmed withdrawal of a staggering amount of XRP tokens from escrow. The details of these transactions were shared by the Whale Alert crypto tracking company.
Ripple makes another billion XRP escrow release
The San Francisco-headquartered DLT decacorn has traditionally unlocked one billion XRP tokens on the first day of a new month. This amount of crypto is the equivalent of approximately $1.2 billion in fiat currency.
The release was made in two transfers, 500 million XRP each, around six hours ago. As a rule, about 80-90% of the unlocked amount is put back in escrow. Ripple uses these funds to finance its own operational expenses, send XRP to its partners and customers (financial institutions) and overall support the coin's liquidity.
Initially, Ripple locked 55% of the total XRP emission (55 billion coins) in a series of escrows. That was back in 2017, and the plan has been to release one billion coins each month for the next 55 months, which is almost five years. According to this plan, Ripple should finish these monthly releases of XRP in 2022.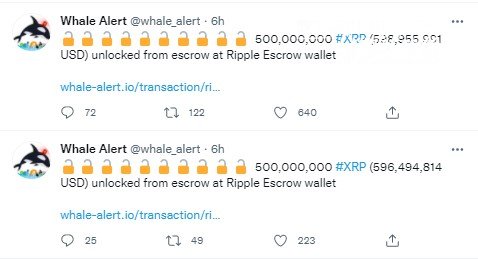 Image via Whale Alert
Exchanges and whales transfer 86 million XRP
Whale Alert has also spread the word about several XRP transfers between crypto exchanges and anonymous whales transferring almost 86 million coins.
Thus, owners of anonymous wallets have shifted 48,152,824 XRP ($56,803,276) amongst each other. U. S.-based crypto exchange Bittrex sent 12 million XRP to the Upbit platform.
Besides, 25,640,000 was transacted to Bitfinex.
Ripple's battle against SEC rages on
At the moment, Ripple continues its legal war with the U.S. SEC regulatory agency, started by the latter in December of last year. The agency claimed that Ripple Labs has been selling unregistered securities (that was how they referred to XRP) to institutional investors and took the company to court, along with its cofounder Christopher Larsen and current CEO Bradley Garlinghouse.
The SEC has accused these two high profile Ripple executives of earning over $1.3 billion by selling XRP.