Ripple Inc. is actively hiring despite being sued by the U.S. SEC. The company is looking for a highly skilled and experienced IT professional for a senior engineering position.
Technical lead wanted by Ripple
Jim Chauncey-Kelly, Ripple's senior director and head of its global talent acquisition department has posted a vacancy for software developers. According to his latest tweet, top-level IT experts can join the payment decacorn's team right now.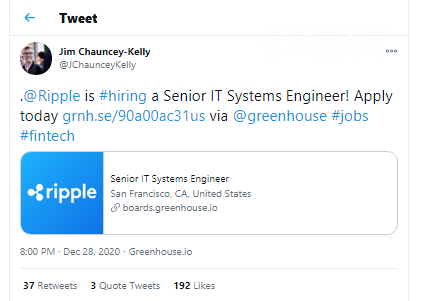 Image via Twitter
The job description is posted on the Greenhouse IT-focused hiring service. According to the job ad, Ripple's San Francisco office is going to onboard a new tech lead.
The perfect candidate should have 5+ years of relevant experience, be familiar with systems engineering and have a proven record in digital security, network building, virtualization, containerization, configuration management and systems monitoring.
Also, he/she should be an expert in scripting, REST and SOAP APIs and wireless network design. Earlier this month, Mr. Chauncey-Kelly published vacancies for software engineers, partner success leads, technical engineers and principal engineers.
SEC lawsuit causes serial delisting of XRP
This massive hiring campaign is launched amidst the unprecedented troubles of Ripple Inc. and XRP token. As covered by CryptoComes in an ongoing story, Ripple and its key officers, Brad Garlinghouse and Chris Larsen, are accused by the U.S. SEC of offering illegal securities in the form of XRP tokens.
The amount of illegal XRP sell-offs may surpass $1.2 billion. Shortly after the accusations were published, Ripple's major partner Moneygram explicitly denied any usage of Ripple's ODL and RippleNet to transfer users' funds.
As a result, top-tier exchanges started announcing the termination of XRP trading. Coinbase, Bitstamp, OKCoin and Crypto.com are the first platforms from the premier league to get rid of XRP processing.