PayID, the solution tasked with the development of a united payment identification system across different payment networks, can now attribute human-readable names to its customers. "thePayID" service works similar to Ethereum Domain Name System (ENS), but its "names" are utilized for payments receiving and authorization.
thePayID is released in beta, XRPL Labs core dev has its name registered
According to an official release from thePayID team, the new service is created by 10 XRP community enthusiasts from Japan. With thePayID, everyone can create a human-readable identifier of PayID transfers.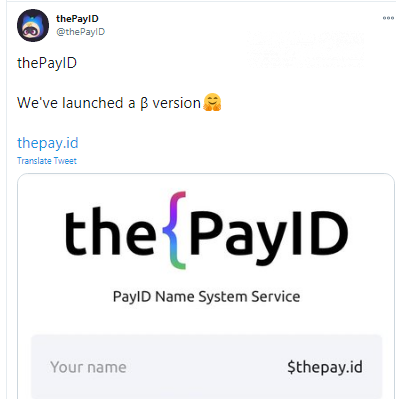 Image via Twitter
The inaugural release is a beta version of thePayID, so developers warned about its limited functionality. However, the "starter-pack" functions, such as creating a customized "$thepay.id" name, are already up and running.
XRPL Labs founder and lead developer Wietse Wind was among the first explorers of the new instrument. Today, Nov. 9, he booked the name of "Wietse$thepay.id" and congratulated the developers of thePayID: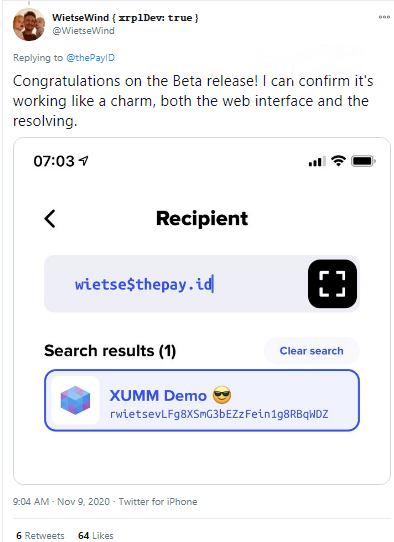 Image via Twitter
He also announced that he is fascinated by the interface, user experience and performance of the newly launched application.
Many unusual features to come
The new application's team shared its plan for onboarding new clients. First, they will add a function to activate PayID with fully-customized names. Merchants will be able to register their domain names as PayID identifiers without the need to run a PayID server.
Then, the owners of domain names will be provided with the opportunity to publish their domains as PayID identifiers to promote and advertise it in the digital currencies community.
As covered by CryptoComes previously, PayID is promoted by Ripple Inc. as a unique instrument to achieve interoperability between numerous payment networks, including both cryptocurrency-oriented and fiat-focused services.
The payments between PayID addresses are characterized by low latency and negligible fees, so many Ripple Inc. partners have already integrated it. As of September, the network has 1,000+ active addresses, Ripple's product director, Craig DeWitt, reported.