Amidst developing FOMO catalyzed by rallies of Bitcoin (BTC), major altcoins and DeFi "blue chips," an important negative trend is irritating the global blockchain community. Brad Garlinghouse, CEO of the Ripple Inc.payments decacorn, accuses social media giants of ignorance.
"XRP giveaways" go hand-in-hand with crypto rallies
Mr. Garlinghouse noted that the ongoing stage of crypto euphoria has already triggered many scammers behind the fraudulent "XRP giveaways." Meanwhile, tackling this kind of abuse is still very difficult for the support teams of major social media platforms.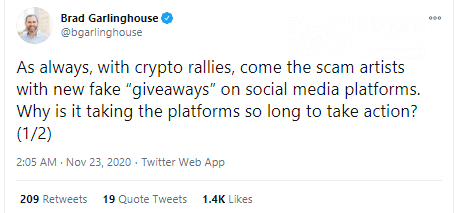 Image via Twitter
Today the Ripple CEO reported YouTube channel AndreoBee. Hackers took this channel over on Nov. 22 of this year and used it to impersonate Mr. Garlinghouse. An endless video simulates a livestream with the Ripple CEO and promotes another "airdrop" on his behalf. The channel had 550,000 subscribers prior to the hack and was popular for its uncomplicated content, which covered Minecraft RPG and TikTok memes.
At press time, the channel in question remains active and fraudsters raise funds from the most gullible XRP holders.

Image via YouTube
Well-known Indian YouTuber Naveen Yadav, who used to run this channel, reported the hack to Google more than 24 hours ago, but no action has been taken yet.
Simplest and most profitable scam
In the comments section below this tweet by Garlinghouse, one of his followers reported that Google Ads service approved such airdrops for display in search engines. This appears even more confusing with regard to Google's patented super-cautious approach to all things crypto.
These sorts of "giveaways" require nothing but a hacked YouTube, Telegram or Twitter account and a telegraph page to display an XRPL address to send funds to. Thus, the costs involved in running an effective scam of this sort are negligible.
By contrast, the profits from such a simple scam can be massive. According to a study by the XRP Forensics team, almost $60,000 has been raised by scammers for a 24-hour airdrop.
With the insane rally of the XRP price, the loot of malefactors can be even more significant.