Top-level Rust developer Artem Vorotnikov, who leads the development process for the OpenEthereum client, identified the processes that led him to initiate the end of Ethereum Classic (ETC) support.
More trouble than it's worth
According to Mr. Vorotnikov, a lot of "negative publicity" has come from Ethereum Classic (ETC) stakeholders. Also, Ethereum Classic (ETC) blockchain is no longer immutable after the controversial Phoenix hardfork.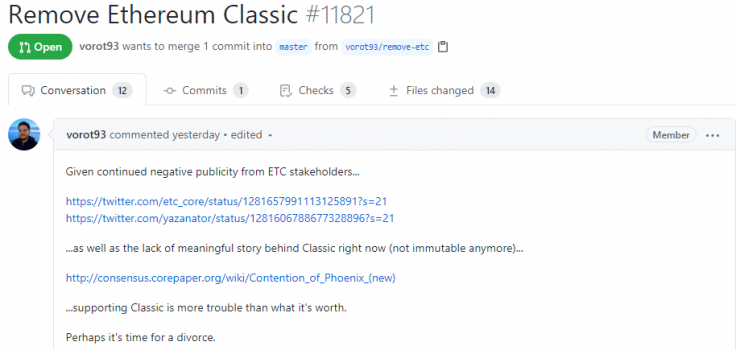 Image via GitHub
Mainly, the negativity was expressed through repeated encouragements to "try out" and threats to migrate to other clients.
Also, Mr. Vorotnikov recalled that ETC blockchain participants named his project "a threat to someone's product." As a result, Mr. Vorotnikov decided to abandon support of Ethereum Classic once the next OpenEthereum release is delivered.
This proposal has been supported by Wei Tang, the engineer who earlier left the Ethereum Classic (ETC) team. Mr. Tang also explained that problems with blockchain immutability and community management plague Ethereum Classic (ETC).
Audi alteram partem
Afri Shoedon, well-known Ethereum (ETH) dev and author of Ropsten testnet, admitted that neither side in the conflict is innocent.
Thus, it did not take long for Ethereum Classic (ETC) community representatives to voice their complaints to the OpenEthereum team.
According to one of them, the devs of this client were "irresponsible" during the last network upgrade and showcased some "QA failures."
"Your team was irresponsible during the Phoenix hard fork. Non-collaborative and aggressive to established $ETC dev teams. Your client v3.0 release was a catastrophe."
That said, an ETC community participant recommended that Artem Vorotnikov stop "playing victim" and blaming open source networks for his own mistakes.