Amidst the mass media euphoria around the allegedly confiscated funds of infamous Chinese scam Plustoken, many analysts noted that Ethereum (ETH) wallets attributed to this Ponzi scheme remain inactive. Well-known insider Colin Wu explained what might be behind this discrepancy.
Buy the rumors, sell the news
First, Wu reiterated that the majority of assets that were said to be "seized" were actually sold and returned to the state treasury. The last operation by the Chinese state resulted in the "seizure" of 190,000 BTC and 830,000 ETH only. That is why many of Plustoken's Ethereum wallets witnessed no fund movements in the last few days.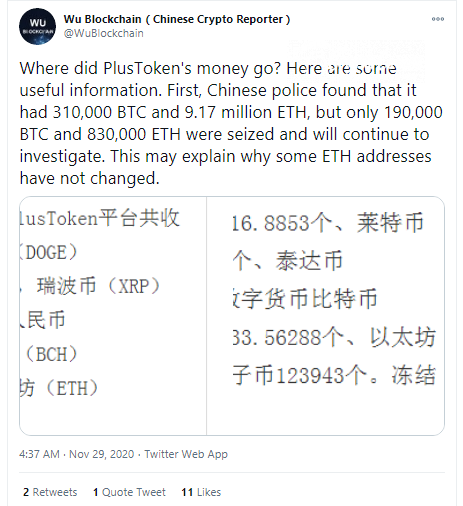 Image via Twitter
Also, only three Plustoken officers have been punished for "hiding and transferring" Plustoken assets so far. Meanwhile, the entire quantity of scam "managers" under investigation surpasses dozens of Chinese citizens.
Despite the fact that the battle with Plustoken is obviously very far from ending, Chinese authorities are actively selling seized assets. A participant in the local "over-the-counter" cryptocurrency market has informed Mr. Wu that this "sell-off" began in late 2019.
Thus, many of Plustoken's Bitcoins (BTC) were sold on behalf of the Chinese treasury when its price was climbing from $7,000 to $10,000.
Last days of Plustoken?
Regardless, the days of Plustoken as an influential "selling pressure" factor on the cryptocurrencies market are numbered. The latest news on the incoming transaction from its main EOS wallet failed to have a lasting impact on the price of EOS.
Plustoken should be referred to as the largest scam ever in the entire history of cryptocurrencies. This Ponzi scheme was active in China, Japan, Korea, Russia and other countries from 2018 to 2019.
Plustoken investors were attracted by 9-15 percent in monthly rewards. Its managers grabbed the coins of almost 800,000 victims around the world.
In 2019, its top managers were arrested in China. However, this arrest was only the beginning of the story of Plustoken's assets identification.